The award for Best Picture in the Oscars is often the most anticipated category and Twitter verifies this, as the conversation surrounding the nominees for the Best Picture award reaches 52,654 as of midnight on Friday, February 24. The volume of posts have been steadily increasing by day throughout the week as the awards approach, with 3,287 posts on Friday, February 17 to 13,737 posts a week later, on February 24.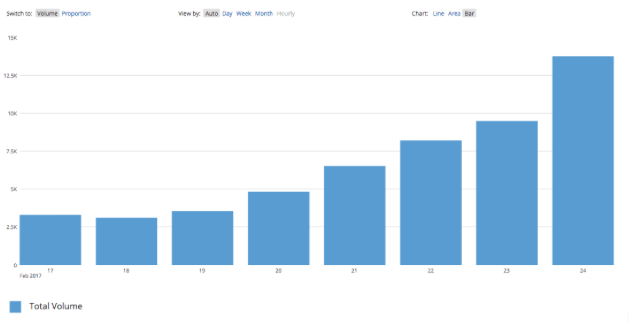 The nine nominations for Best Picture were given to the films La La Land, Lion, Arrival, Manchester by the Sea, Fences, Hidden Figures, Hacksaw Ridge, Moonlight and Hell or High Water. Top conversations surrounding Best Picture nominations are being led by Moonlight, Hidden Figures and La La Land, with each film ranking in top mentions and hashtags. Moonlight (@moonlightmov) leads in top mentions with over 1,700 mentions, with La La Land (@Lalaland) close behind with 1,300 mentions. In contrast, La La Land leads in prolific hashtag uses, as #LaLaLand appears in over 5,900 posts. Moonlight's hashtag #Moonlight, follows behind with over 2,100 hashtag uses. Hidden Figures falls in third place in both categories with about 780 mentions (@HiddenFigures) and over 1,900 hashtag uses (#HiddenFigures).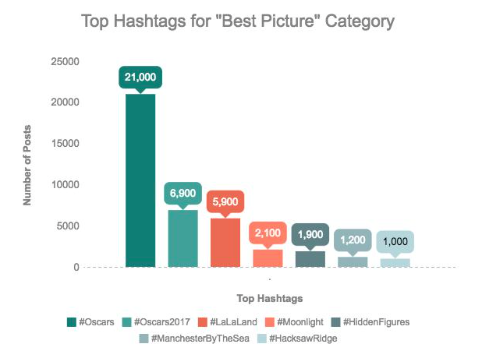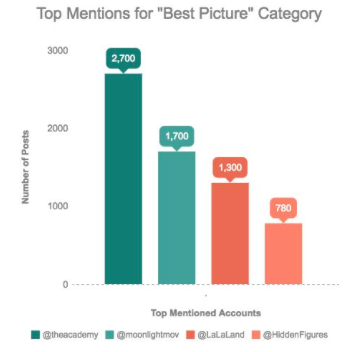 As discussed above, La La Land and Moonlight lead the conversation by top mention and top hashtag. Out of a sample of 10,142 posts, 55 percent contain topics of either film. The growing conversation surrounding the Best Picture category celebrates the nominated films but also pits fans against each other in the competition for the prestigious title. A visible theme in the conversation is of race, creating tension in topics surrounding La La Land and Moonlight. The top retweeted tweet in the category of Best Picture largely drives this theme with over 3 thousand retweets.
https://twitter.com/miskeencore/status/833848726984736768
After the Oscars air on Sunday, February 26, Twitter can expect strong reactions to the results of the Best Picture category, based on the rising conversation leading up to the event.