We chose to monitor the American Civil Liberty Union's social media pages. The ACLU is a non-profit organization that works to defend and preserve the individual rights and liberties guaranteed by the Constitution and laws of the United States. They take on many different human and civil rights issues to defend citizens from unconstitutional governmental actions. We were interested in the ACLU, because they address so many issues that we believe are important and relevant today.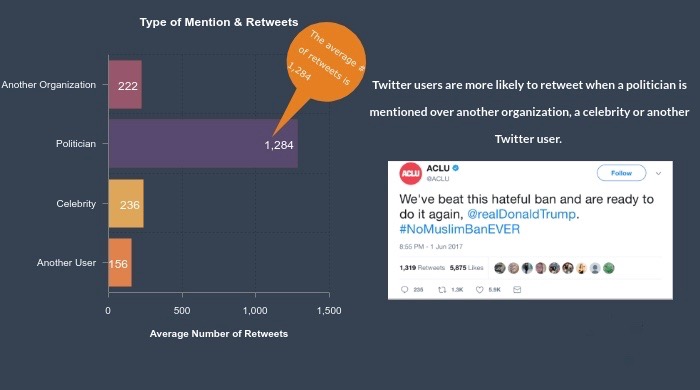 Politicians are behind many of the controversial issues that the ACLU are fighting. Before analyzing our data, we were interested in whether or not politicians being mentioned would spark more engagement. We were especially curious to see if Trump and his administration would drive the majority of engagement.
Engagement here, measured as number of retweets, was found to be higher when a politician was mentioned. As you can see above, when a politician is mentioned the average number of retweets is 1,284. This number is much higher than the retweets associated with the other types of mentions. While sorting through our data, we saw that the majority of political mentions were mentioning President Trump or a direct member of his administration. Rarely did we see a politician that was not President Trump mentioned.
We can't believe we have to say this, but — your transphobia cannot be used to deny transgender people homelessness services. https://t.co/UTMAG1l30o

— ACLU 🗳 (@ACLU) March 20, 2018
In order to drive up the number of retweets, we suggested that the ACLU mention politicians more frequently. If an issue can be related back to a specific politician, the ACLU should mention that politician. The above tweet is a perfect example. The ACLU should mention @SecretaryCarson, as he is the one behind the issue.
Mentioning a politician on Twitter ties the content of the tweet to that person. Users will know who to direct their voice towards. Mentioning a specific politician is a way for users to directly interact with politicians and have their opinions heard.
Post contributed by ADPR 5750 students Mackenzie Attridge and Scarlett Chang.