Fall break is just around the corner and that can only mean one thing, it is Georgia-Florida rivalry week. With a general sense of anxiety slowly permeating through campus, the SEE Suite is putting together a day-to-day social media analysis breakdown of everything GA-FL so you can keep a pulse on the conversation and know who is winning the battle on social media.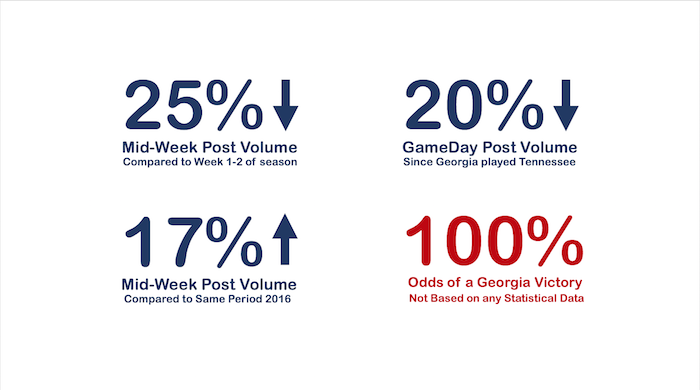 For what is usually considered to be the most important game of the season, social media buzz for the game has been pretty flat leading into, and immediately following, Georgia's bye week. While this may come to no surprise to most due to the two-week gap between football games, overall mid-week post volume across all social media platforms is down 25% compared to the first two weeks of Georgia's season.
If we just look at game day volumes, each football game since the Tennessee match-up has roughly seen a 20% decrease in total number of post. Based on this trend, it seems Georgia fans are not expressing as much excitement on social media now as they have for previous, less historically significant, games such as those against App State and Notre Dame.
It must be said though that numbers are definitively up compared to this time last year. Following Georgia's defeat to Vanderbilt at home last year, daily social media buzz leading up to the bye week and the Florida game were never higher than 29,000 posts. Last week alone saw three days with over 35,000 posts. That is a 17% increase for those respective days.
How the rest of the week unfolds is anyone's guess. It is only Monday and Fall break starts Friday. While we can safely assert than an upset by Florida this Saturday can be reserved to the figments of Gator imagination, we could see an unexpected increase on social media activity leading up to Florida's eventual trashing at the hands of the Bulldogs. Stay up to date with us to find out!
Ever wonder how the SEE Suite uncovers all these great findings? We use a powerful took called Crimson Hexagon that helps us sift through all types of social media platforms and find trends and spikes to report on. For Georgia Florida week, we narrowed our search to focus on the two schools and the many different phrases used throughout game week, including 'FL Hate Week', 'Frat Beach' and 'GAvFL'.   
Post contributed by SEE Suite Intern Zoie Hashim.