Imagem Corporativa (Brazil)

March 2017 – Current
Founded in 2001 by journalist Ciro Dias Reis, Imagem Corporativa is one of the main communication agencies in Brazil. Headquartered in São Paulo, it also has offices in Rio de Janeiro and Brasília. The only partner of PROI Worldwide in Brazil, it operates globally by serving international clients in the national territory and developing work for Brazilian companies in other markets. (From the website).
We examine the U.S. media view of Brazil for Imagem Corporativa. As individuals no longer limit themselves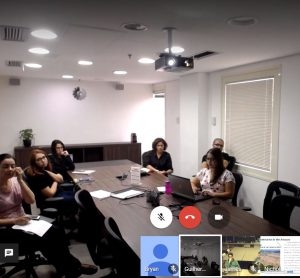 to a handful national news media, we take a broader approach to news analysis. Relying on hundreds of news sources, local and national, with and without offline presence, we examine key news spikes of Brazil-related stories to identify key events that caught the U.S. news media attention as well as in leading newspapers worldwide. We report the key political, economic and social issues, including the sentiment breakdown for each story.  Our interns present their work on the US and international news coverage of Brazil to the Imagem Corporativa team.
See examples of our reports:
U.S. Coverage of Brazil – 2017

U.S. Coverage of Brazil – 2018 Q1

International Coverage of Brazil – 2018 Q1

---
Mercer LLC 
December 2016-January 2017
Mercer is a global consulting leader in talent, health, retirement and investments. At the World Economic Forum (WEF) in Davos, Mercer used Twitter to promote content related to two of its core missions: gender equity and the retirement gap. The SEE Suite team – interns and graduate students – worked with Mercer's social media team to determine the overarching conversations surrounding these topics, analyze related Twitter activity, and draw actionable insights. During our daily teleconferencing meetings with Mercer's social media war room, our team reported its analysis, including:
Key themes of conversations.

Key influential users and hashtags.

Most shared posts.

Network analysis of key communities and bridges.

Success metrics of mercer-related Twitter users, including its leadership.

Success metrics of mercer competition.
Using our analysis, Mercer was able to better shape their social media strategy for the World Economic Forum in Davos. Completing this project, we provided a final report including:
Summary of our daily analysis.

Mercer Share of Voice (SOV) calculation for the two main topics:

Retirement Gap = SOV over 40%

Gender Equity = SOV over 20%

Network analysis of Mercer-affiliated users' reach during WEF, compared with the competition.

Key recommendations for next year's forum.
Mercer's social media success at the World Economic Forum was noted in this Ad Age article (see: Owning an Issue).
---
Luckie & Co.
April 2018-Current

---
---
Center For International Trade & Security
February 2016 – July 2017
The SEE Suite is working with the Center For International Trade & Security of the School of Public and International Affairs at the University of Georgia. We provide monthly cross-platform social media analysis, related to issues of interest to the center and its affiliates (such as, the social media conversation surrounding the Iran Nuclear Deal). Our monthly reports include:
Sentiment analysis.

Conversation spikes analysis.

Key influential users.

Most shared content.

Conversation theme-analysis by social media space.

Conversation themes-analysis by country.

Summary of notable insights.