By the time this is posted, St. Simons Island has likely fully transformed into Frat Beach, and any with a sane mind have either hunkered down or left for the week. For everyone else though, this is the time to celebrate responsibly and have fun.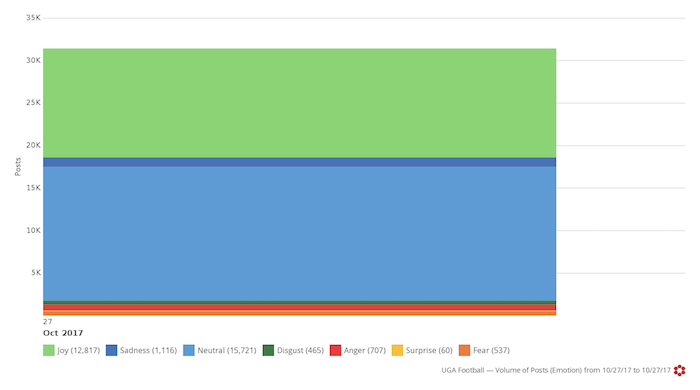 As if to signal the festivities, emotions on social media have shifted drastically is the past twelve hours. Tweets that are categorized as 'joyful' has seen a 100% jump, translating to a 40% share of all social media conversations. Negative emotions such as anger, disgust and fear barely register today despite having slightly higher presence earlier in the week. It seems most have put their differences and concerns aside for today as the beautiful 70-degree weather keeps temperaments at bay.
Several stories from reputable sites are trending on Twitter today, capitalizing on the buzz surrounding the game tomorrow.  SBNation ran a social campaign aggregating some of the best Frat Beach stories over the years and have posted some of the best to twitter and their website. This article is well worth the read.
AdWeek on the other hand has highlighted Buffalo Wild Wings' hilarious Halloween campaign, staring both the Georgia Bulldogs and Florida Gators. The three-minute commercial is relatable, thrilling and very funny.
For the big game tomorrow, the SEE Suite team will be following the social media conversation live and will share a post-game roundup at the end of the evening. Stay tuned to see if emotions stay positive, or if things take an unscheduled turn.