As with any large event like the Oscars, a slew of hashtags is bound to trend around the topic. Of the nearly 600,000 Academy awards related tweets made between February 7th to March 2nd, nearly 250,000 of the posts used Oscar related hashtags (#Oscars, #Oscars2018, #Oscars90).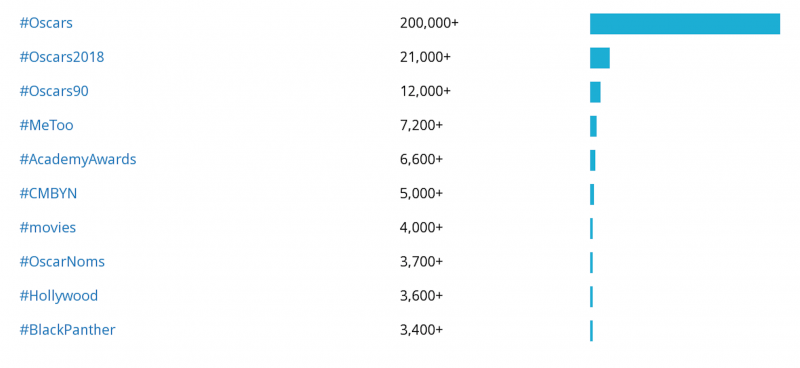 Hashtag usage surrounding the Oscars social media activity.
The next highest hashtag used on academy awards related tweets was #MeToo, the hashtag associated with the growing sexual harassment whistle-blowing movement, Me Too. Tensions have been rising in Hollywood as more and more celebrities are naming their abusers, and public outcry over the event has been heavily supported. Many Twitter users wish to see The Academy Awards highlight the movement and its relevance to the film industry, but the shows producers wish for the focus to be on the films themselves, not the socio-political landscape.
"In This #MeToo Moment, Academy Awards Want to Spotlight the Films" by BROOKS BARNES via NYT https://t.co/UXPmoAZXjD pic.twitter.com/7I3uXOWGxv

— Bernadette Moultrie (@sunni2967) February 23, 2018
All eyes will be on the Oscars to see if the show acknowledges the movement or not. #MeToo will likely see a spike in posting if new developments arise.
Post contributed by SEE Suite Intern James Ogletree.