The eve of the Oscars and Oscars night has seen a slight increase in the postings about the #MeToo Movement in Spanish tweets. The increase and number of postings however are much smaller than those of postings made in English.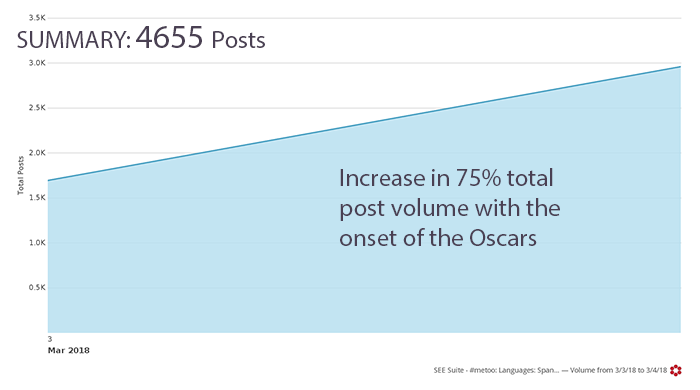 Posts that included the specific keywords: Oscars, #Oscars, or #PremiosOscars totaled at about 1,036 posts between March 3rd and March 4th of the overall #MeToo conversation.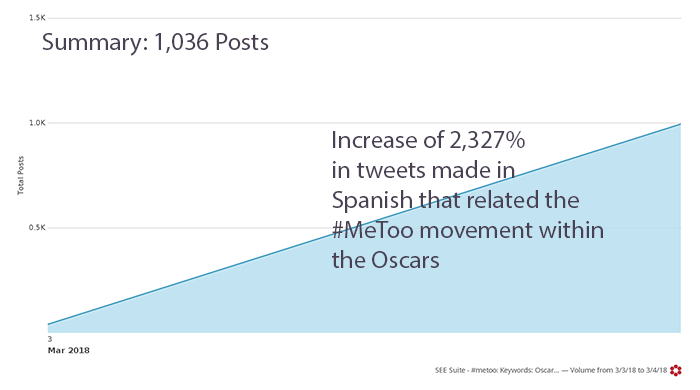 These total number of postings are however much smaller than the usual number of posts seen in similar award shows in the past with conversations that revolved around the #MeToo movement (such as the Golden Globes) even with the slight increase brought on by the Oscars Weekend. This could indicate the lifetime cycle of the hashtag has reached the decline state. As can be seen from this next graphic, the overall conversation and postings revolving the #MeToo for tweets made in Spanish has decreased by 27%.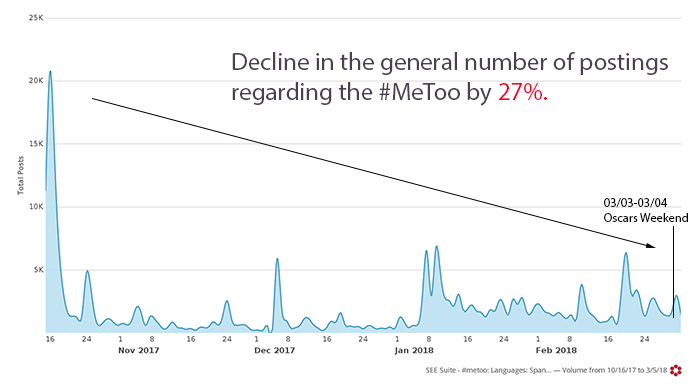 Tweets were very mixed during the Oscars weekend with allegations against host Ryan Seacrest and rape allegations against Kobe Bryant resurfacing with his Oscar win amidst the #MeToo movement's sweep within the film industry. Most tweets appeared to support the movement, yet others questioned its validity and potential harm.
Ricardo Rocha cuestiona a Carmen Aristegui. "¿No crees que al presentar casos tan endebles le está haciendo un daño terrible al #MeToo?" https://t.co/OD9Vq9iEul pic.twitter.com/88LiRXV3eT

— El Universal (@El_Universal_Mx) March 3, 2018
"Ricardo Rocha questions Carmen Aristegui. "Don't you think that by presenting such flimsy cases you're doing terrible harm to the #MeToo"
Post contributed by ADPR 5750 student Luis Mata.