Earlier in the week, the interns here at SEE Suite played the Oscars guessing game. We monitored the highly contested Oscar nominations of: Best picture, director, actor, actress and original screenplay in an attempt to predict the winner of the five awards.
In the end, two out of the five predictions were right, with best picture and director going to The Shape of Water. We were unfortunately not as clairvoyant for the other three categories.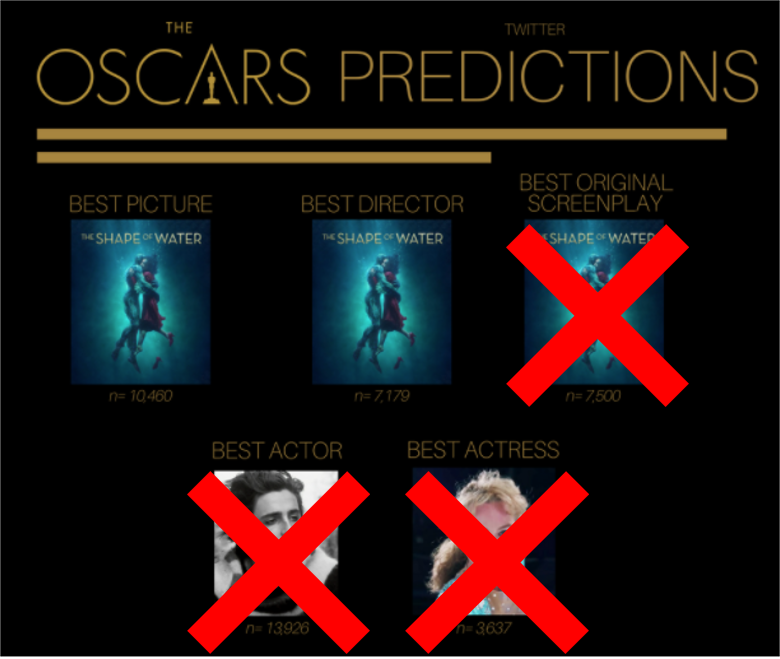 We predicted that the best original screenplay would go to The Shape of Water, but it was awarded to what would've been the second guess for the night, Get Out, which garned 30% of the pre-oscars conversation (about 20,000 total tweets), versus 39% for the former.
But I wouldn't divorce yourself from the numbers quite yet. The prediction of Margot Robbie for I, Tonya was off yes, but that was an oversight on our part. When we decided which films might have a chance at the oscar, we looked at the individual topic wheels generated through crimson hexagon. As you can see, the films:  Darkest Hour, Lady Bird and I, Tonya, all appeared on the wheel in one form or another. What we failed to notice was that 3 Billboards, actually held 21% of the twitter conversation, whereas  I, Tonya  held 20% of the conversation. So the numbers there support the winner, we just didn't catch it in time.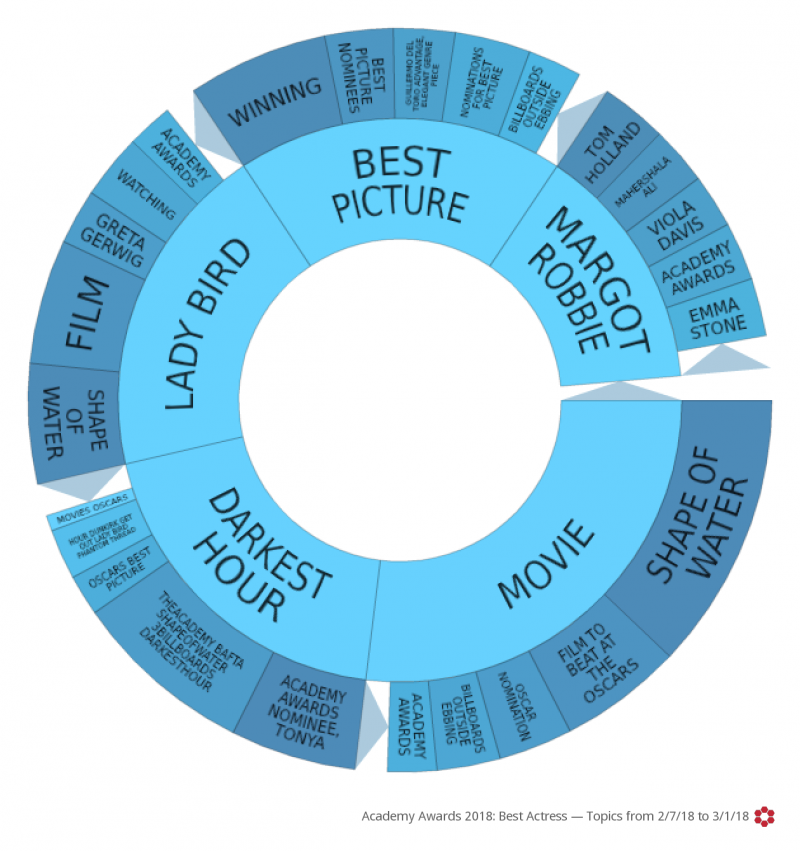 The final prediction for Best Actor, went to Timothée Chalamet in Call Me By Your Name, and held 48% of the twitter conversation. The actual award went to Gary Oldman for his performance as Sir Winston Churchill in Darkest Hour which only held 10% of the twitter conversation. Upon further examination, this domination of the conversation may be due to the controversial nature of Call Me By Your Name. The films content appeared to spur a fair amount of debate in both the film and gay communities.
Despite missed predictions, the conversations surrounding The Oscars can be telling to the winner. Or at the very least we can narrow it down for a better guess.
"Truth reveals itself in degrees, and we can progress from an incomplete to a more and ever more complete comprehension of truth." – Goethe
Post contributed by SEE Suite Intern James Ogletree.