The refreshing celebration of Latinx talent during last night's 90th Academy Awards ceremony signified yet another hopeful step forward in the effort to break apart the all too common whitewashing in Hollywood, and as we here at the SEE Suite happily noted, this did not escape the Twittersphere.
Oscar winning films such as Coco, The Shape of Water, and Una Mujer Fantástica (A Fantastic Woman) which boast Latinx cast and crews drove a significant chunk of last night's conversation. Almost 20% of the nearly 5 million posts highlighting the Oscars were singing the praises of these award-winning films, doubling the Latinx involvement in the conversation from 12% leading up to the event to 27% on Sunday.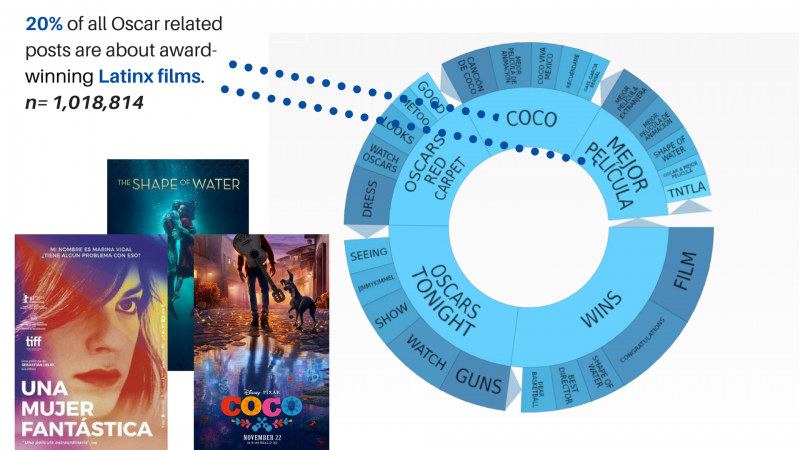 But it was not just Latinx audiences who were celebrating these wins. Twitter audiences from all walks of life rose up en concert for sweeps such as Coco's much-deserved win of Best Animated Film and Best Original Song. As Robert Lopez put it in his acceptance speech for Best Original Song, "Coco is a celebration of Mexico, music and family". That very celebration was seen when Coco, which features the first ever all-latino voice cast, laid claim to the fourth highest trending hashtag on Twitter for the night (#Coco, of course)—right behind #Oscars2018.
Twitter rose up again when, as predicted by the clairvoyants here at SEE Suite, The Shape of Water took home the Academy Award for both Best Picture and Best Director. This film's director, Guillermo del Toro, hails from Mexico, providing reason for yet another rousing rendition of "¡Viva México!" from Latinx Twitter audiences.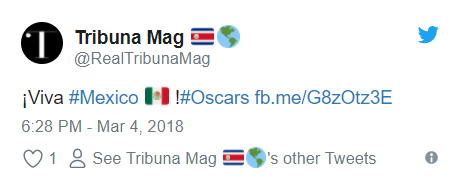 And the celebration did not stop there; last night's Latinx wins even caught the attention of major political figures. Michelle Bachelet, the first female president of Chile (and its sitting president), tweeted out her congratulations to Chilean film Una Mujer Fantástica, this year's winner for Best Foreign Language Film. Being a cross-sectional film that gives visibility to both the transgender and Latinx community, its win became a hotbed for Twitter-fed discussion, garnering 40% of all Spanish language posts discussing the Oscars' Best Films. Many were praising this film's star (and third most mentioned Twitter author), Daniela Vega, both for her performance in the film and for being the first openly transgender woman to present at the Academy Awards.
Yet while last night was undoubtedly a win for the entire Latinx community, many claim that it still isn't enough in terms of complete equal representation. Perhaps this year's Academy Awards, then, will serve as a springboard for furthering diversity. Here's to hoping that such triumphs become a commonality in the years to come, and that diversity becomes the celebrated standard.
Post contributed by SEE Suite Intern Carly Wages.