In the days leading to the Super Bowl, web-hosting companies GoDaddy and Wix competed for attention in social media discussion after releasing their Super Bowl commercials early. GoDaddy's ad, which features a personified Internet, failed to spark pregame conversation. Wix, however, maintained continuous conversation surrounding its ad starring Jason Statham and Gal Gadot through the implementation of social media contests.
Although Wix was the forerunner before the game, conversation about the brand was relatively slow during the big game. The discussion peaked between 10 p.m. and 11 p.m., shortly after the ad aired during the fourth quarter.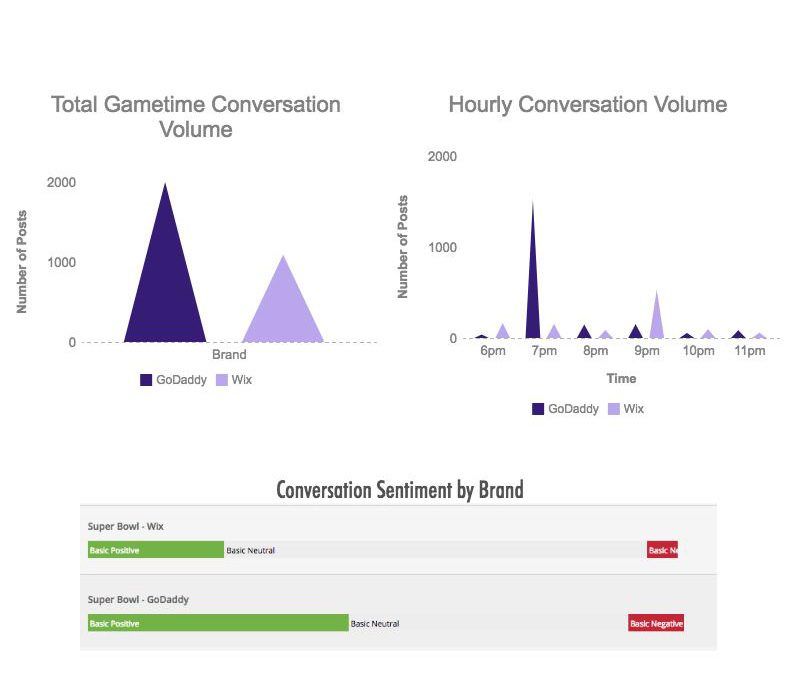 On the other hand, conversation about GoDaddy's Super Bowl ad was more active. While GoDaddy is often highly criticized for running ads with sexist creative concepts, the brand took a less controversial approach this year – and it seems to have paid off. The conversation spiked after the ad aired around 7 p.m. as users turned to Twitter to share their opinions on the commercial. Despite some complaints about the Internet references being outdated, the sentiment of conversation about GoDaddy's commercial is almost twice as positive as conversation about Wix's ad.