Conversation surrounding the Oscars and Foreign Films has been on a gradual growth – it spiked on February 19th (2,300+ posts) before dying down and then beginning to enter the conversation again on February 24th (total posts now equate to 16,400+).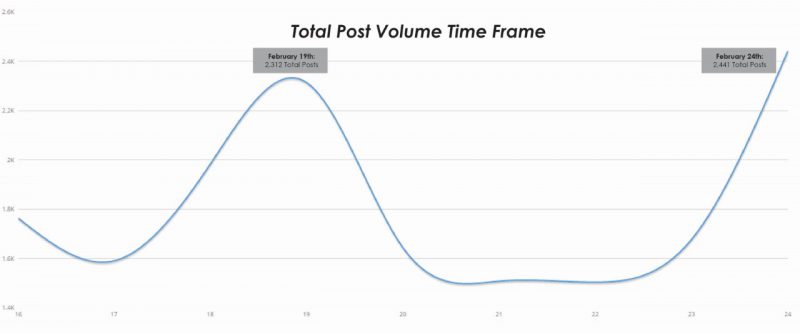 When looking at this conversation, a majority of the posts originate from the United States (3,272 posts) and the United Kingdom (2,122 posts). When looking at top cities, London occupies the top spot, by a wide margin, with a total of 1,059 posts (13.96% of the conversation). It is subsequently followed by New York (316 posts), Los Angeles (231 posts) and Madrid (231 posts).
It is interesting to note that London is the highest mentioned city, as a large segment of the overall conversation traces back to the second highest hashtag in use – #LondonIsOpen (1,300+ posts – 8.5% of the overall conversation). London Is Open is a campaign that was launched after Brexit by Mayor Sadiq Khan to inform the world that London is still open for business and that no form of discrimination will be tolerated. This hashtag was used in conjunction with mentions of the nominated film, The Salesman.
The Salesman represented a large chunk of the dialogue with over 37% of the overall conversation referencing this film (6,100+ total posts); the top hashtag that was used in the conversation was #TheSalesman (2,500+ posts), and this high level of engagement can be credited to two identical tweets coming from Sadiq Khan – one from @SadiqKhan and one from @MayorofLondon.
LONDON: 26 February, Trafalgar Square, a free Oscar-night special event: the UK premiere of the Oscar-nominated #TheSalesman #LondonIsOpen 🎥 pic.twitter.com/awL1S2OkTq

— Sadiq Khan (@SadiqKhan) February 14, 2017
When looking at the other films in the category for Best Foreign Film, it appears as if the public favors The Salesman, as it shows the highest level of engagement through mentions and hashtags. Following The Salesman, the other movies line up as follows (based on overall engagement): Toni Erdmann (@ToniErdmannFilm has 250+ mentions and #ToniErdmann has collected over 700+ uses) ; A Man Called Ove (#AManCalledOve has received over 1,200+ hashtag uses) ; Tanna (@TannaMovie has over 170+ mentions and #Tanna has seen 400+ uses) ; and finally Land of Mine (#LandofMine with 210+ uses).