Sunday night, Disney's Zootopia won the Academy Award for Best Animated Feature Film. Given Disney's long history of leadership in animation, the idea of a Disney team taking home the award is not exactly surprising. However, analysis of social media conversation shows that in the eyes of the audience, Zootopia was not the only winner. 
With over 130,000 posts, conversation about the animated feature films was quite active during the Oscars this year, likely because the movies appeal to audiences spanning multiple generations, ethnicities, and geographic locations. Disney was a clear forerunner in the category with two nominees: Zootopia and Moana. Although audiences voiced their support for Zootopia after the award was announced, the win was largely overshadowed by Auli'i Cravalho and Lin Manuel's live performance of Moana's "How Far I'll Go."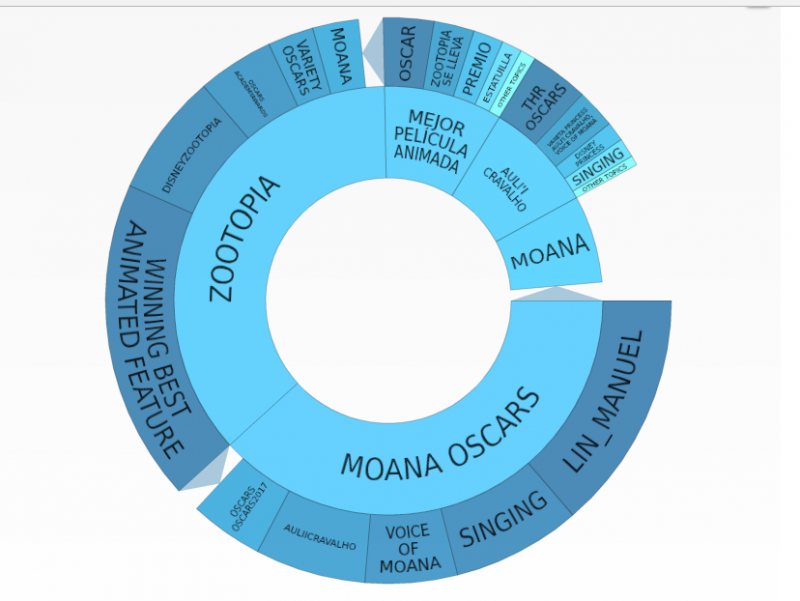 The performance sparked so much conversation that Manuel, Cravalho, and other Moana related accounts hold four spots out of five in the list of top mentions. #Moana was used almost as many times as #Zootopia. While some users congratulated Zootopia on its win, a larger audience voiced praise for Moana's performers and the film itself. As a result, the most retweeted tweets feature images and video clips of the performance.
#Oscars: @LinManuel raps the intro to Auli'i Cravalho's 'How Far I'll Go' from @DisneyMoana. pic.twitter.com/lYugdlQVM8

— Hollywood Reporter (@THR) February 27, 2017
No matter which movie went home with the trophy, it is clear that Disney animation was the biggest winner overall.