If you missed the Oscars this past Sunday night, The Salesman emerged triumphantly as the winner of Best Foreign Language Feature; however, conversation surrounding this topic did not merely result in congratulatory messages. The director, Asghar Farhadi – who is already an Academy Award winner in the same category for his 2012 film, A Separation – chose to not attend the show in protest of the currently enforced Trump travel ban (this is the Executive Order that bars immigrants from 7 dominantly Muslim countries – Iraq, Iran, Syria, Yemen, Somalia, Sudan, and Libya – from entering the United States).
Best foreign language film: "The Salesman," directed by Asghar Farhadi, who boycotted the #Oscars due to Trump's travel ban

— Brian Stelter (@brianstelter) February 27, 2017
The absence of Farhadi and the cast of The Salesman was a deliberately made move to initiate a discussion on the controversial immigration policies of the Trump Administration. Conversation around the Oscars and Best Foreign Film quadrupled on the night of the show (62,000+ total posts between 5:00 PM – 12:00 AM on February 26th; and half of the tweets coming from the 10:00 – 11:00 PM frame), and a large percentage of those engaging in the conversation didn't so much comment on the film, as they did on Farhadi's boycott and the driving social issues that prompted him to do so.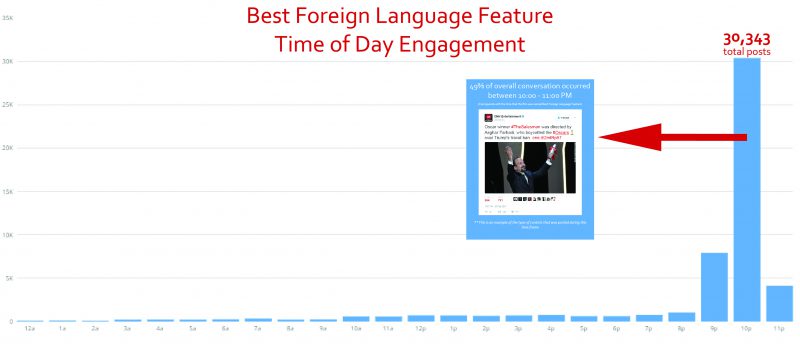 The most mentioned user was @realDonaldTrump with over 22% of the overall conversation (13,400+ posts) linking back to him. When looking at content that mentions Trump during this time span, emotional analysis showed higher levels of negative/disappointed attitudes (disgust accounted for 10% of the total). The second highest mentioned user was @SadiqKhan, mayor of London and orchestrator of the showing of The Salesman in London's Trafalgar Square. At the showing, Mayor Khan made a statement that aligned with the sentiment behind many Twitter users, "President Trump can't silence me."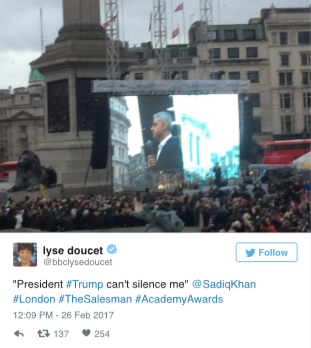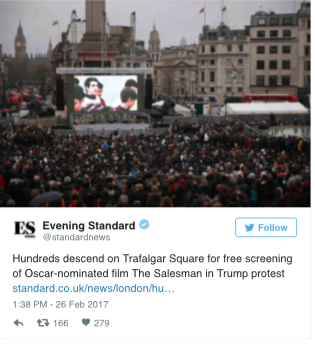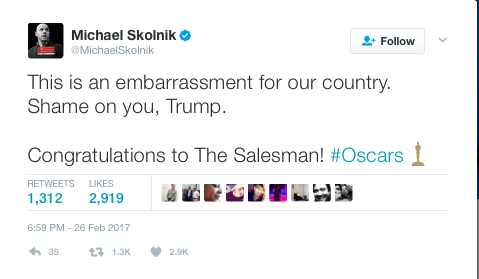 This mentality is something that is shared with all five nominees in the Best Foreign Language Feature who released a joint statement prior to Sunday's showing. In the statement, they expressed "emphatic disapproval of the climate of fanaticism and nationalism we see today in the U.S. and in so many other countries, in parts of the population and, most unfortunately of all, among leading politicians."