So ends another great AAA Annual Conference. All of us here at the SEE Suite would like to thank everyone involved in making this year's conference such a rewarding experience. We now want to offer a wrap-up post with some key takeaways from the weekend.
Overall, the sentiment for the conference was largely neutral (67%), with most of the rest being positive (30%). Positive sentiment largely focused on the research being presented. The remaining negative sentiment's conversation actually centered around some users not being able to attend as well as being sad about the end of the conference.

Looking at the overarching conversation throughout the weekend, the AAA Twitter page and #AAABoston17 were at the forefront of conversation, being used by enthusiastically by conference goers in order to contribute to the conversation. A large portion of conversation was contributed by the University of Georgia, which mostly discussed research presented by their peers. Advertising was broadly discussed (obvious for an advertising conference), but tended to focus on research. The most discussed presentation of the weekend ended up being the keynote address about data in advertising by Rishad Tobaccowala of Publicis.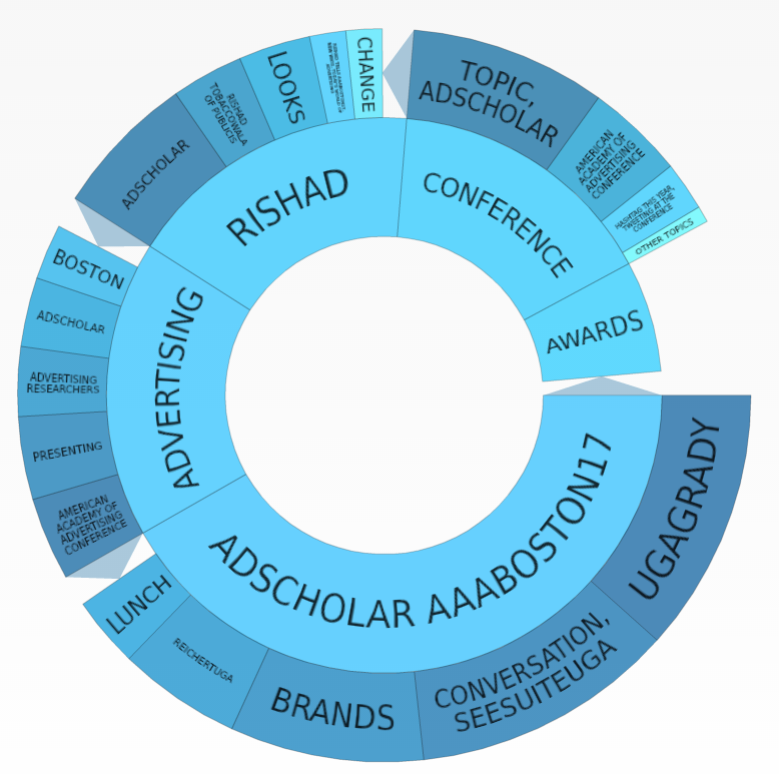 The most engaged with post ended up being a tweet from the University of Florida College of Journalism and Communications congratulating Eunice Kim for winning the Mary Shaver Promising Professor Award (congrats!). Another highly engaged with tweet came from our own Itai Himelboim, showing research by Jameson Hayes being introduced by Joe Phua. Both of these tweets are great examples of the positive atmosphere surrounding the conference, focusing on the learning and growth of all attendees.