The Coca-Cola Foundation supports many initiatives throughout the globe. One of them is facilitating the economic empowerment of five million women entrepreneurs around the world by 2020. This initiative is known as 5by20 and partners with local programs to develop scalable, viable empowerment programs that are relevant and customized to women and their communities. Women all around the world partner with The Coca-Cola Foundation to become entrepreneurs and develop sustainable businesses although this initiative is part of the Foundation, the non-profit branch of The Coca-Cola Company, it falls under the Company's main social media channels instead of having its own.
Since we are observing a specific Twitter hashtag (#5by20) within the organization's posts, we analyzed the content based on the average level of engagement for content related to various different topics. Engagement, in this example, is shown as the number of retweets a certain post has. Our analysis included all tweets made by the organization. We focused on content type and average number of retweets for each content type. We found that the top four content types included 5by20 entrepreneur products, 5by20 artisan spotlight, 5by20 initiative, and 5by20 questions which constituted 10%, 48%, 39% and 1% of total posts, respectively. While the organization tweeted most on the 5by20 artisan spotlight concept, tweets related to 5by20 entrepreneur products received the highest average number of retweets. Institutions named in these tweets mainly included @Fortune_Magazine, @Babson (Babson College) and @UN_Women.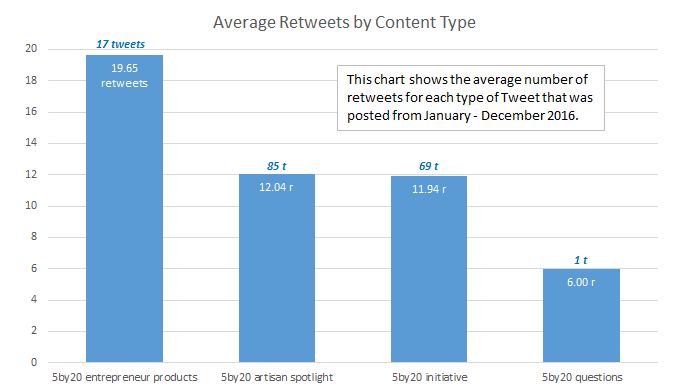 Coca-Cola's 5by20 initiative Twitter presence shows interesting findings.
The public expressed the greatest interest in tweets related to the 5by20 promotion content type. Because of this, the organization should consider additional postings related to this. Additionally, since posts related to 5by20 promotion content referenced notable organizations in the tweet, the organization should consider attempting to include notable organizations in more of their tweets, regardless of content type, going forward. This may lead to increased activity by the public and possible increases in sales of 5by20 entrepreneur products. Overall, analyzing the topic of conversation that gets people interacting with Coke and 5by20 helps spread the word about their initiative and through social media, get them closer to achieving their goal by 2020.
Turn recycled Coca-Cola bottles into art! One of our #5by20 artisans shows you how pic.twitter.com/ZX5nyGtBlz

— The Coca-Cola Co. (@CocaColaCo) December 12, 2016
This #IWD2016 meet some of the 5 million women we aim to empower through our #5by20 programhttps://t.co/0dp9g82L47

— The Coca-Cola Co. (@CocaColaCo) March 8, 2016
#5by20 @AdelantePower program & @SBAgov partner to create more jobs, transform communities https://t.co/5vsV4FHS8z pic.twitter.com/LGYMyz8Io4

— The Coca-Cola Co. (@CocaColaCo) June 30, 2016
@jesch30 The artisans behind our #5by20 movement inspire us 👉 https://t.co/MtNSfMQb0i 👈What aspects of their vision stand out to you?

— The Coca-Cola Co. (@CocaColaCo) February 8, 2016