How can March Madness help your business? Most companies are thinking the same thing after the many upsets bringing light to the sponsors of the basketball madness. With over 2.5 million tweets about March Madness just this month alone, companies are swarming the topic and breaking into the conversation. Almost 27% of these tweets have been positive, regardless of the infamous upsets of the season! There has also been over 1.5 million tweets with the hashtag #MarchMadness.
The research done on the tweets of March Madness clearly reveals that men are the main target audience for marketers as they are the conversation starters around the infamous March Madness. Men and women alike are talking about this topic on social media outlets, but it is clear that men are doing the majority of the engagement with a 69% engagement compared to 31% for women. However, for the percentage of women who are engaging who enthusiastic about #MarchMadness are more likely to be talking about it with both the men and women in their life, which just continues to spread the buzz. If your company has a goal to reach more men, here might be a great place to start! Analysis of the men who are engaging in the conversation shows that majority of the content is positive. We see below that 56% of the engagement with men was positive and this would be a great motivation to help get clients on board with #MarchMadness.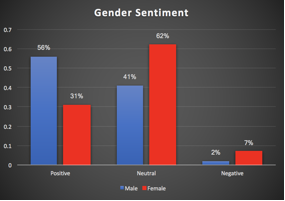 Example 1 This is an example of female sentiment (red) versus male sentiment (blue) in response to #MarchMadness.
Goosebumps!

What a season it's been.

With #ChampionshipWeek and #MarchMadness still to come, there's a lot to be excited about! https://t.co/lUhyQeV9Xv

— NB (@SPMAnino) March 7, 2017
Example 2 These are examples of positive sentiment posts from men on the topic of #MarchMadness.
All kinds of companies are jumping on the #MarchMadness train for many reasons! One being the enormous following of the conversation surrounding March Madness. Trivago got in on the fun and was able to inform followers of hotel prices, whereas AT&T was directly responding and interacting with customers. ATT is an extremely influential user with a Klout score of 82 and interacts with their audience frequently. From a customer standpoint, customers love to make things as relational as possible. This is going to create a wave of conversation on their social media platforms and in turn, create trigger of when people think of AT&T they thinks of #MarchMadness and vice versa. This would be the slam dunk for social media marketing we are referring to!
Or, is #MarchMadness just in time for your unlimited data? 🏀 🙌🏀

— AT&T (@ATT) March 8, 2017
Example 3 This is an example tweet from ATT, an influential social media user who has used #MarchMadness to their advantage.
Jimmy Fallon is just one of the many entertainers who is using his platform to gain the attention of the followers of #MarchMadness. Fallon strategically used his puppy predictors to broaden his audience as he is already an influential user with a Klout score of 83. Fallon has millions of nightly viewers and many of those have March Madness brackets. March Madness attracts a large variety of people and thus, it is easy for many different platforms to use to advertise for themselves as well.
A #FinalFour edition of Puppy Predictors! https://t.co/cGCOZZPVZj #FallonTonight

— jimmy fallon (@jimmyfallon) March 30, 2017
Example 4 This is a social media post by Jimmy Fallon, using #MarchMadness to enhance personal social media marketing as an influential user.