The Atlanta Humane Society is a local, Atlanta based non-profit organization founded in 1873, serving around 30,000 animals each year and places approximately 9,000 dogs and cats in their forever homes. They are committed in finding homes for all pets, while improving the welfare of animals across the Southeastern United States by providing preventative care, adoption, and education.
The tweet that showed the highest number of retweets was an announcement made by the Atlanta Humane Society about their deployment efforts to Houston during Hurricane Irma. It received a total of 42 retweets with a total engagement level of 43. A link was attached in the tweet that allowed Twitter users to directly make a donation towards the society's efforts. During the event of Hurricane Irma, many animals were left behind to fend for themselves by their owners. This led audience members to feel more inclined to get involved by making a donation or sharing the tweet to spread the word for others to see.
We're being deployed to Houston.

Your donation now will be doubled to support animals in the Southeast.https://t.co/QmI04ElVsl pic.twitter.com/7hlnEKTR3k

— Atlanta Humane (@atlantahumane) August 29, 2017
While tweets that were sponsored showed some engagement, in comparison to announcement tweets, they showed an overall lack of engagement from users. For example, Atlanta Humane tweeted for #NationalEatWhatYouWantDay with the following tweet.
On #NationalEatWhatYouWantDay our pets choose @Purina (they can't get enough of it!). pic.twitter.com/icaUbIMklQ

— Atlanta Humane (@atlantahumane) May 12, 2017
This sponsored tweet featured Purina as the brand of choice for Atlanta Humane's shelter animals, and had four retweets with seven likes. Although there was at least a little engagement, there was still minimal engagement with the sponsored tweet.
Overall, announcements made by the Atlanta Humane Society triggered the most engagement from users because they were either positive announcements, such as new animals being saved and brought into the shelter, or encouraged some type of action from the audience members. While tweets that were sponsored by partners of the Atlanta Humane Society saw less engagement because audience members would recognize it was sponsored content.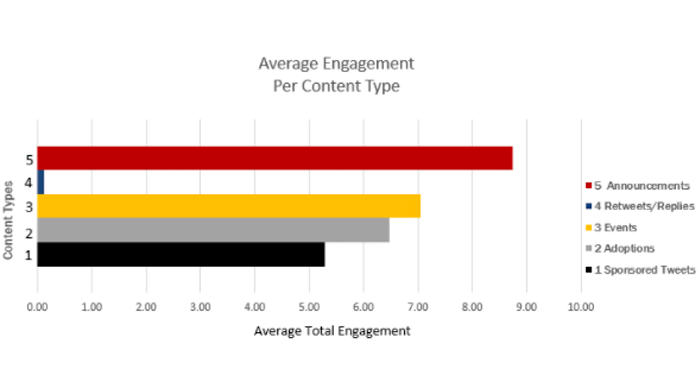 Seen in the chart above, announcement style tweets garnered the most engagement followed by events, adoptions, and sponsored tweets. When looking at the data, 38 of of the posts were announcement tweets, 23 were event tweets, 185 were adoption tweets, and 7 were sponsored tweets totaling 638 tweets. The average engagement for announcement tweets was 8.74, the average engagement for event tweets was 7.04, the average engagement for adoptions tweets was 6.48, and the average engagement for sponsored tweets was 5.29.
This post was contributed by Tina Martinello, Eva Wei, and Maddie Cravey for their Social Media Analytics class.