As the game approaches, it seems as if tensions are rising between the Georgia and Florida fanbases. After a slight decline on Monday and Tuesday, fans took to social media outlets again Wednesday night to express their excitement for the game and disgust for the opposing team. In doing so, not only did volume in number of posts increase, so did the emotions expressed through them.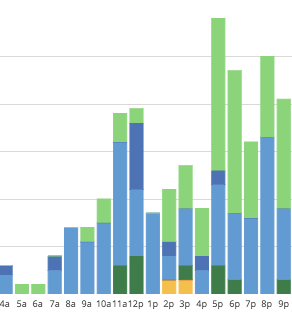 Between Tuesday and Wednesday, posts across platforms were up 36%. Similarly, there was an increase in Joy of 39% and overall Neutrality dropped 17%. Interestingly, the emotions increased drastically late Wednesday night right before this article was written.
This may be attributed to the viral poll option tweet provided by Regions in which users could vote and tweet for their favorite team. Overall, the Gators had more tweets than the Dawgs.
Saturdays are for watching the Georgia Bulldogs dominate the football field. #GoDawgs https://t.co/qly3E9DzYd

— Kearis Jackson (@king_kearis) October 25, 2017
Though the campaign started earlier in the day, it was interesting because the peak time period was in the evening, after business hours and after the normal "peak" time period of Wednesdays- right before 5 pm.
It is noteworthy that these stats do not revolve around the success of an original tweet from a player, fan or coach- but rather a bank who has their headquarters in Alabama and isn't generally a sponsor for either team.
It will be interesting to see if the emotion stays or if it increases and similarly if these viral tweet campaigns will continue to dominate the conversation.
Post contributed by SEE Suite Intern Julia Dell'Orso.