Despite the interest of Georgia Tech Hate Week, the remainder of the week leading up to the game followed the typical peaks and pits around game day. Conversation overall went down 70% between the Kentucky game and the Georgia Tech game following Thanksgiving.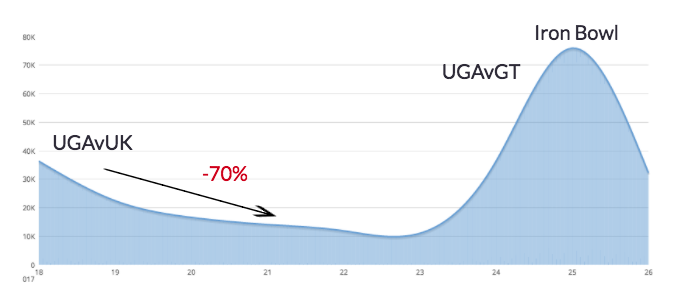 With the upsets occurring on Friday in the Miami and Mississippi State games- both of them losing- spirits were high for Georgia fans going into the game. In fact, posts were at an all time high for positivity holding 38% of all sentiment on Saturday.
This continued throughout the evening when the peak of volume and emotion was reached after the Iron Bowl (Alabama and Auburn) was finished and Georgia fans found out they'd be meeting Auburn once again in Atlanta.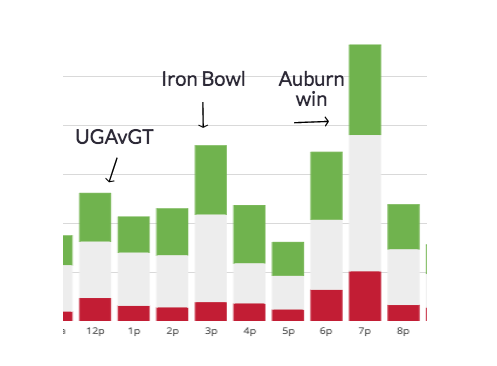 In fact, very quickly after the Georgia game ended just before 3:30 pm, sights were already set on the SEC championship. Forum postings went up 15% throughout the day but only 3% of all posts on the forums were about Georgia at all. 17.3% of posts focused on the championship games and the eventual College Football Playoffs.
Overall, compared to last year, the posts were less emotional as Georgia won their game and it was much easier to look ahead to the following championship weekend whereas the loss to Tech last year was salt on a wounded season.
Post contributed by SEE Suite Intern Julia Dell'Orso.