It is no surprise to see a large spike in tweets on March 9th, just a day after International Women's Day. What might be surprising, however, is where the tweets were coming from. South Korea and Thailand have represented around 5% of #MeToo tweets since the beginning of the movement, but on March 8 and 9 the two countries accounted for over 40% of the #MeToo tweets sent.
For both countries, the huge number of tweets sent after International Women's Day was completely unprecedented, but why now? The answer might be in the history of #MeToo in Korea. Gender inequality has been a cultural issue for South Korea, but on March 8, Korean lawmakers announced new measures to fight sexual assault including extended prison sentences for violators.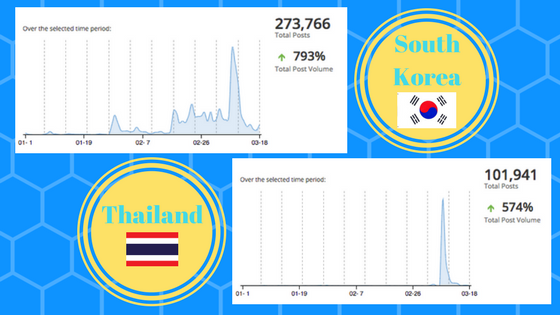 This legislation came as a result of a recent scandal involving Korean politician Ahn-Hee Jung after his secretary accused him of rape and he resigned from his position as governor. Since the beginning of the year, many Korean women have begun to step up and join the movement causing many men to fall from their positions of power. Much of the conversation in early March also surrounded actor Jo Min-ki, who was found dead by suicide on March 9, after eight different women accused him of sexual assault.
조민기 자살 뉴스 보도 뜨자마자 댓글.. 수준봐라, 진짜. 미투 운동이 사람을 죽인게 아니라 자기 자신 제어 못하고 권력남용한 사람이 끝까지 본인 제어 못하고 회피한거죠. 변태성향 일 순 있지, 근데 권력남용으로 사람 죽이는건 꼭 숨쉬고 있다고 살인 안한 거 아닌데? #MeToo pic.twitter.com/mAArmEl47b

— Shoko ❥ (@Shoko_Mutsuki89) March 9, 2018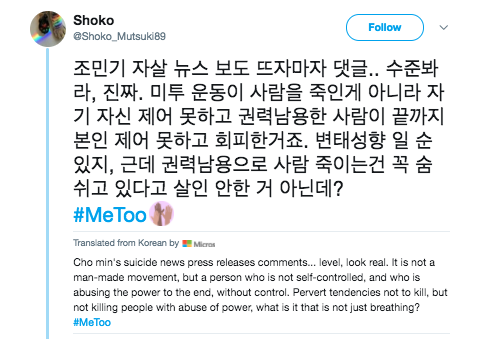 While the United States might be witnessing a slow decline in #MeToo use (a 62% volume decrease since January 1), other countries have claimed and transformed the hashtag later in the game. For South Koreans and those watching their culture closely, the hashtag now is a symbolic victory cry for the real change they are seeing.

Post contributed by ADPR 5750 student Dylan Kearney.