UGA Athletics is an organization that relies heavily on their ability to reach large audiences. They want to keep their fans up to date with the latest athletic events and accomplishments. It is crucial for the organization to engage with their audience and make sure that fans are engaging with UGA Athletics' content. Thus, we defined "engagement" as retweet count. Not only do retweets illustrate fans' interactions with the organization, but they also increases the reach of UGA Athletics' content by sharing it with more individuals' networks.
We first compared different hashtags used by UGA Athletics between September 10th, 2017 and January 10th, 2018 to see which hashtags generated the most engagement. #DawgNation generated the most engagement by far with an average retweet count of 216. This is likely due to the sense of unity the hashtag evokes. #RingTheBell/#ICYMI got the least engagement with an average retweet count of only 11.6. We think this is because #RingTheBell is hyper specific to UGA Students and may not engage with a fan who never attended the school. Additionally, #ICYMI is included with content that happened in the past and is not as relevant to the UGA Athletics' audience as current events.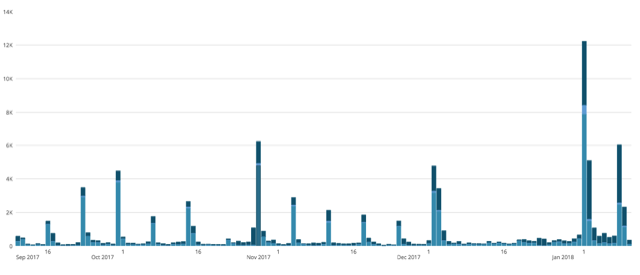 On a larger scale, we then compared the retweet count over different dates in the UGA Athletics' conversation between September 10th, 2017 and January 10th, 2018. The first large spike in retweets came on October 28th, 2017 with 4,784 retweets. This was likely due to the renowned Georgia/Florida Football Game. The largest spike then came during the Rose Bowl on January 1st, 2018 with 7,881 retweets. These spikes suggest Important football games increase engagement with UGA Athletics' content.
Post contributed by ADPR 5750 students Joseph Alves, Brenna Coyle, Jessica Michels, and Eli Johnson.