TEDx events are localized TED talks hosted by multiple cities throughout the world that were created in the spirit of TED's mission, "ideas worth spreading." It supports independent organizers who want to create a TED-like event in their own community and create connections and spark conversation and are planned and coordinated independently under a free license granted by TED. This particular analysis focuses on the way these local TEDx events affect conversation on twitter (which makes up 80% of the total engagement across all social media platforms). Additionally, from an analysis of the top mentions on Twitter, TEDx received an overwhelming majority.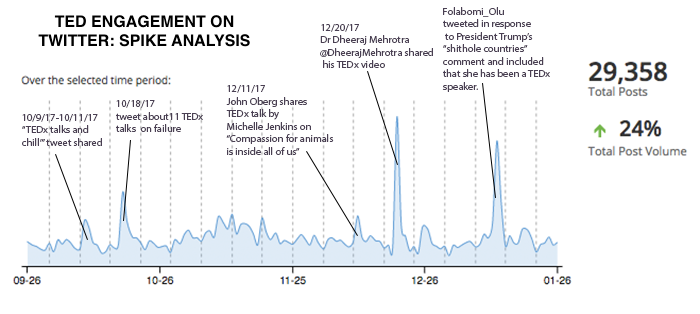 TEDx events caused spikes on October 9th, 2017-October 11th, 2017 through popular "TEDx Talks and Chill. On October 18th, 2017, the sharing of a post containing 11 TEDx Talks (on the subject of failure was shared). On December 11th, 2017, a TEDx talk by Michelle Jenkins was shared by another user. On December 20th, 2017, Dr. Dheeraj Mehrotra shared his own TEDx talk and on January 12th, 2018 Folabomi Olu shared a post in which described she was a TEDx speaker, an athlete but also from a "shit hole" country in response to Trump's tweet that day.
From the spike analysis above it can be clearly seen that local TEDx talks are driving the conversation and overall engagement on Twitter. Whether it's like on October 9th, 2017, a tweet referencing TEDx talks by changing the popular phrase "Netflix and Chill" to "TEDx Talks and Chill" or local speakers at TEDx talks sharing their content, as was the case with Dr. Dheeraj Mehrotra residing in New Delhi (who spoke at a local TEDx event); TEDx talks are the way users actually engage with TED content and not just view it. TEDx talks allow a local forum for users to share relevant talks within their own communities that if properly tapped into can create even more conversations surrounding TED.
TEDx Talks & chill ?

— Damilare (@Justicenickel) October 9, 2017
My TEDx video https://t.co/KqkJUcUHt3 on learning to learn.

— Dr Dheeraj Mehrotra (@DheerajMehrotra) December 20, 2017
Post contributed by ADPR 5750 students Luis Mata, Mary Murphy, Daniel Herr, and Kiara Bass.