By Sequoya Ford, Madelyn Smith, Lanie Sturgis, Katherine Sturgis
Georgia-made non-profit organization Habitat for Humanity has quite the presence on social media. From January 1 until August 31, 2021, the organization was mentioned over 61 thousand times via various social media platforms. That's a lot of buzz! To put things into perspective — similar non-profit organization AmeriCorps, amassed 41 thousand mentions. Less social-media savvy organizations: Home for Our Troops, The Fuller Center and Homeaid were discussed only a couple of hundred times each.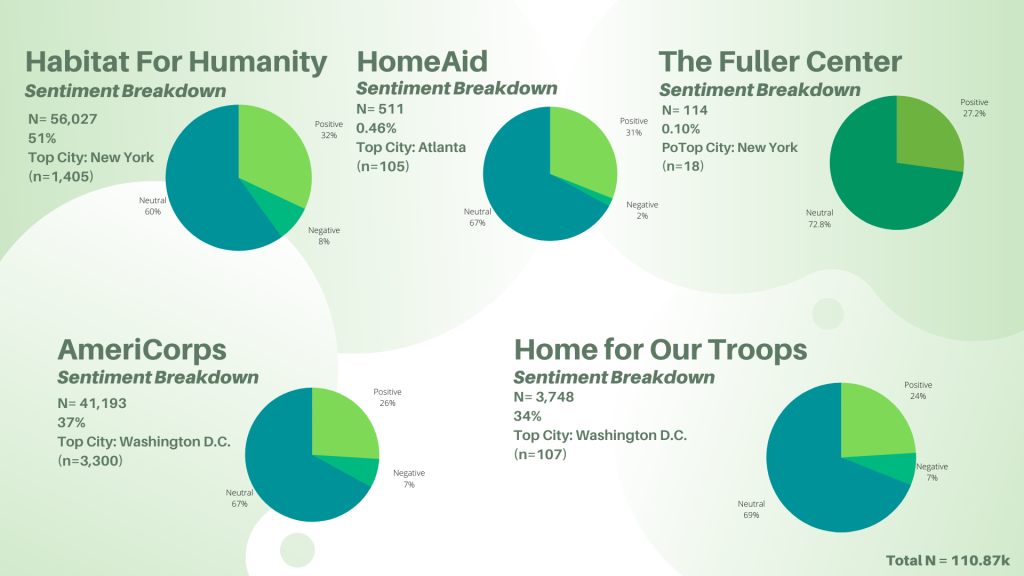 Despite Habitat for Humanity's headquarters being located in Atlanta, Georgia, social media users posted about the organization most commonly in New York. The Fuller Center's "Top City" was New York as well. Organizations AmeriCorps and Home for Our Troops were discussed in D.C. most commonly. However, HomeAid's "Top City" was Atlanta.
All five organizations had majority of the posts classified as neutral in terms of the "sentiment" of the content: ranging from 60 to 72.8%. Sentiment analyzes the wording and context of content and categorizes the post as speaking positively, negatively or neutrally about the organization. Out of the five organizations, HFH had the highest percentage of positive posts for its own content, 32%.