The Kia commercial starting Melissa McCarthy and the new Kia Niro began as an humorous Eco-adventure but quickly activated a politically charged audience call-out of White House Press Secretary Sean Spicer.
McCarthy recently appeared in a Saturday Night Live skit, playing the role of Spicer in a press conference. The skit quickly came back to relevance when audiences saw McCarthy in the Kia Niro commercial during the third quarter of the Super Bowl. The highest retweeted post from 6p.m. to midnight on Feb. 5 comes from actress Elizabeth Banks, with 365 retweets, stating, "I'm excited for @ladygaga but wouldn't mind if @melissamccarthy just did her #Spicer for the #HalfTimeShow #balls #Superbowl https://t.co/9cEjcQ09IC".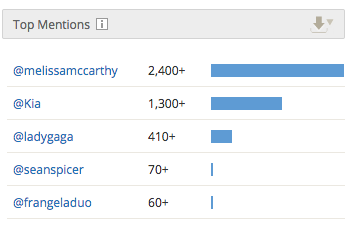 Runner-up for most retweeted post also takes a stab as AdWeek, with over 260 retweets, comments, "'Melissa, the White House needs your help!' #SuperBowl https://t.co/j442UFpWMC", which included a GIF of the McCarthy SNL skit and Kia commerical.
Users fed off of the dialog seen in national accounts such as AdWeek and Elizabeth Banks by using hashtags such as #MediaWeLike and tagging Spicer's account — @seanspicer. The topic of Sean Spicer accounts for about 20 percent of the Kia conversation during and immediately after the Super Bowl.