To basketball fans, the month of March brings to mind only one thing – March Madness. We examined the Twitter conversations surrounding the basketball tournament, and the types of users and content that drove high levels of fan engagement over a span of four weeks (March 7 – April 7).
When examining mentions within March Madness, we expected individual basketball teams to be the main drivers of engagement behind the topic. Surprisingly, however, we discovered that two users stood out above the teams and generated over 34,000+ mentions for March Madness all on their own: @popcrush and @samuelgrubbs1. Both of these individuals are from younger demographics, and both exploited March Madness in a unique and results-producing way.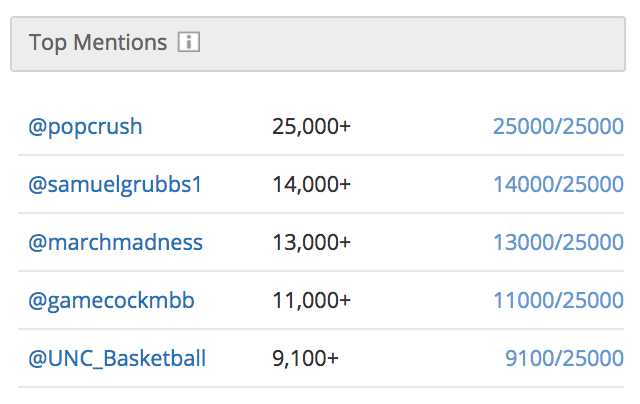 User @SamuelGrubbs1 created a video during class that ended up going viral on Twitter. In the video, the student throws a trick shot of paper into the trashcan while the teacher is teaching. His one tweet got over 8,000 likes and 11,000 retweets.
When March Madness hits the classroom 😂 pic.twitter.com/oZvwZEp2dL

— Samuel Grubbs (@SamuelGrubbs1) March 19, 2017
Similarly, pop culture news website @popcrush used March Madness in their own unique way. They created a bracket of pop culture figures and had fans vote for opposing figures throughout the month. Although not basketball related, it generated over 25,000+ mentions, which is a significant chunk of the March Madness conversation.
Ultimately, unique fan-created content rose mention levels exponentially during March Madness. We recommend that the official March Madness account, @marchmadness, should use this insight to create unique fan opportunities next year, such as a video contest where fans could create videos such as
@SamuelGrubbs1's, or perhaps building off of @popcrush and creating individual-focused brackets, such as a star player bracket instead of team brackets.