Canine Companions for Independence (CCI) is a nonprofit organization whose mission is to enhance the lives of people with disabilities by providing highly trained assistance dogs and ongoing support to ensure quality partnerships. CCI trains services dogs, hearing dogs, facility dogs, and skilled companion dogs that are provided free of charge to people in order to help them gain greater independence and confidence. Two important analyses when looking at a nonprofit organization's social presence include the emotion surrounding the conversation about the organization and their call to actions on social media. CCI needs to create a positive conversation about themselves in order to increase engagement on their tweets with a call to action.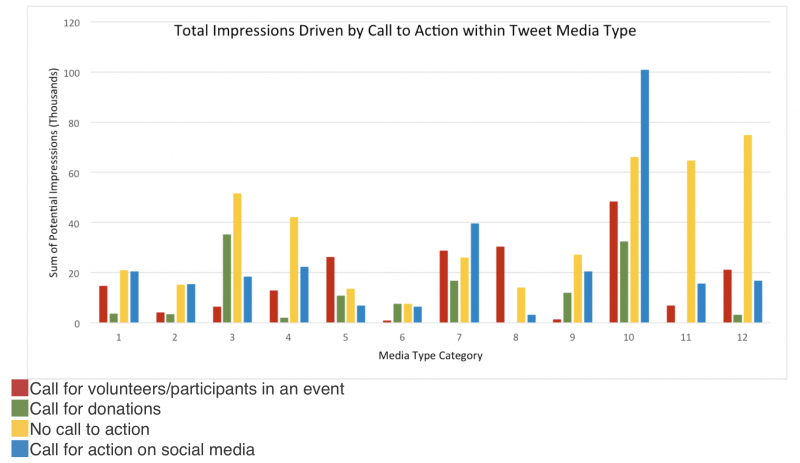 When emotion was measured in the Twitter, Tumblr and Facebook posts about Canine Companions for Independence, Joy and Neutral were the top two categories for each platform, with none of the other categories ever breaking 2% of the posts. This is not surprising, as the content shared on the CCI accounts is mostly informational and inspirational. The large number of Joy posts are accounted for by frequent heartwarming stories of service dogs helping their handlers or the kind words that volunteers share about their CCI experience. Any post using the hashtag #Gratituesday is also included, as these posts often share donations that have been made and 'thank yous' to CCI volunteers. The Neutral posts come from information that is frequently being shared about events and fundraisers, as well as distributing information about dog care and service dog etiquette.
Examining types of tweets posted by CCI, there are different Call to Actions within each tweet. We further broke down the types of Call to Action used across each Media Type. Not surprisingly, No Call to Action remains consistently high in Potential Impressions across multiple Media Types. Additionally, Calls for Action on Social Media were specifically high for graphic and promotional tweets. Call for Donations, which is arguably one of the most important for a nonprofit organization, remained consistently low, but spiked when an adolescent dog in training was featured in the tweet or when the tweet contained a graphic or promotion.