Angels Among Us Pet Rescue (AAUPR) is a non-profit animal rescue organization based in Atlanta, GA, dedicated to rescuing dogs and cats from high-kill shelters in north Georgia. The group operates through a network of foster homes in the north metro Atlanta area. While AAUPR doesn't necessarily "compete" with similar organizations, the rescue does compete for donors. Additionally, foster homes, adopters and transporters are always needed by AAUPR. In an effort to increase AAUPR's engagement on social media, it is necessary to understand what type of AAUPR's content receives the highest levels of engagement in the form of retweets, likes and comments and why spikes in engagement occur both for the organization and the industry as a whole.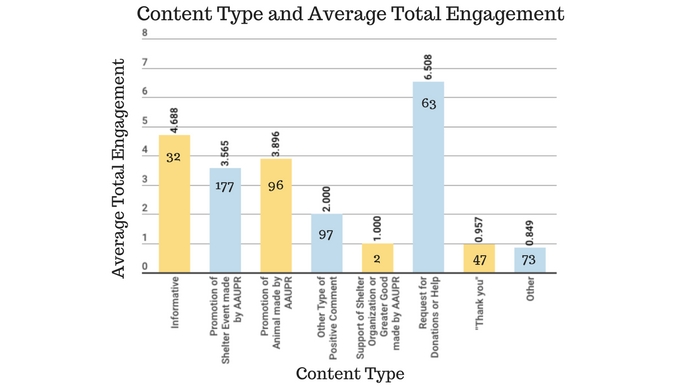 After exporting almost 600 tweets from AAUPR's Twitter account and grouping the tweets based on five categories (Content Type, Type of Engagement, Type of Hashtag, Domain Type and Type of Media), the tweets that received the highest levels of average total engagement could be determined. The results indicate that posts visualizing an animal needing help receive increased engagement. Whether it be a photo or video, accompanying a textual plea for help with tear jerking media is useful to gain coverage and increase awareness.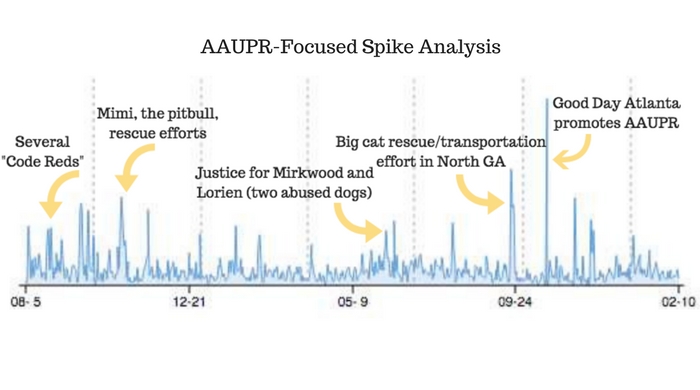 By reviewing the engagement levels with AAUPR- and industry-related content across four major social media platforms (Facebook, Twitter, Tumblr and Instagram) over a nearly 18-month time period, it could be determined what types of content or events created particularly high increases of engagement. Results showed that being mentioned by a news media source on social media could create waves of engagement for the organization. A new saying, "partner and piggyback" originated from the idea that partnering with "prominent" users on social media (those users with 50,000+ followers) and piggybacking off of campaigns or events that happen in the industry and that gain ground can be beneficial for AAUPR to garner additional coverage and increase awareness.
Post contributed by ADPR 7750 students Elizabeth Poole, Elizabeth Sayers, and Chris Shea.