The Georgia Elections came to a close Tuesday night as Kemp lead the polls with Abrams extremely close behind. We took to social media and analyzed some of the conversations that were coming from this historic election. We looked at the data on November 6th, election day, to determine what people were saying about these candidates. Overall, there was over 567,000 total posts on Twitter about the Georgia election.
We looked at several pieces of data, but the first we looked at was who was mentioned the most on Twitter to get a better sense of the conversation. The results yielded that Stacey Abrams (@staceyabrams) had the most tweets in this election with over 120,000+ tweets and Brian Kemp (@BrianKempGA) close behind with over 96,000+ tweets. We then look at some of the top hashtags that were used in this election and found some interesting insights: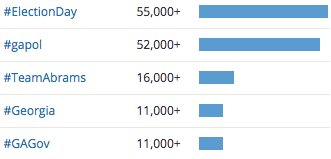 Some of these top hashtags had to do with Abrams and the Georgia elections as a whole, but #ElectionDay was the most tweeted hashtag with over 55,000+ posts. The conversations within these top hashtags dealt with an considerable amount of tweets about Abrams but we also found that another topic of conversation was wait time at the polls with some users complaining the waits were above an hour and a half.
Greg Martin, 70, is a native of Atlanta. He says the hour and half he waited to vote is the longest he's ever waited. "I voted for Stacey Abrams because Brian Kemp is an asshole…and misogynistic piece of shit." #ElectionDay @guardian pic.twitter.com/g4faT8zWOe

— Khushbu Shah (@KhushbuOShea) November 6, 2018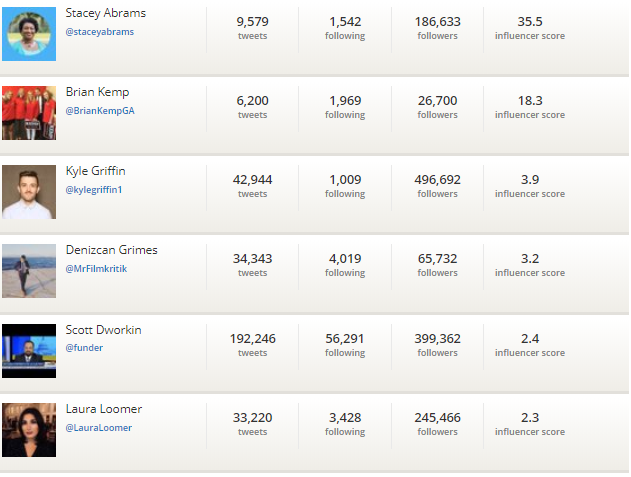 As we look at influential persons in this governor's race conversation it is no surprise that we can see both candidates as top contributors to the conversation. Directly following the candidates MSNBC producer Kyle Griffin, Muslim and Black Lives Matter activist Denizcan Grimes, and Co-Founder of the Democratic Coalition Scott Dworkin showing their support for Abrams through advocating her progressive policies, encouraging Georgians to vote, and noting Abrams historic political activism. In opposition to Abrams we also can see investigative journalist Laura Loomer expressing her support for Kemp as well as bringing to light facts on both candidates political backgrounds.
Looking more in depth at the candidates, we wanted to focus on sentiment behind the posts to get a better idea of how these candidates were perceived by voters on election day.
Brian Kemp: 105,488

Stacey Abrams: 204,755

Brian Kemp had more negative tweets than Stacey Abrams with Kemp at 38% and Abrams at 10%, but Stacey Abrams had more positive tweets with Abrams at 25% and Kemp at 19%. From this insight, we wanted to then dive deeper into the conversation to get an in depth view of what users were saying about each candidate.
Brian Kemp Conversation: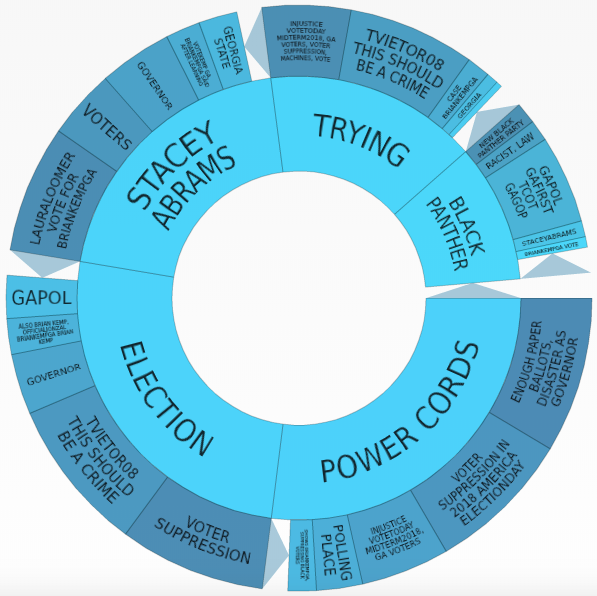 The discussion about Brian Kemp consisted of several different topics but the top conversations were about the election, Stacey Abrams and Power Chords. The largest and most interesting point of conversation was about a blame on Brian Kemp for not providing enough power cords for voting machines which expressed a negative sentiment among users.
Disgusting😑

People can't vote in Georgia b/c @BrianKempGA did not provide power cords to the voting machines

Power cords!

•This injustice is what happens when a man overseas his own election
•This is voter suppression in 2018 America#ElectionDaypic.twitter.com/0zahF0R29P

— Qasim Rashid, Esq. (@MuslimIQ) November 6, 2018
Other discussions about Brian Kemp included a conversation about Stacey Abrams campaign being investigated for an attempt to hack the state's online voter registry which expressed neutral sentiment. The conversation mostly pointed in a negative direction, consisting of 674 tweets directed at Kemp, due to some of the issues experienced during the voting period and a lot of users tweeting at Kemp condemning him for corruption. On the other hand, Kemp did have 329 positive tweets which was about voters telling other voters on social media to go vote for Brian Kemp on election day or how his policies differed from Stacey Abrams. Unfortunately for Brian Kemp, his conversation was mostly negative.
In #GA the @staceyabrams campaign is under investigation! @BrianKempGA said "After learning of a failed attempt to hack the state's online voter registration and My Voter Page, my office contacted the DHS & opened an investigation."Thugs brandishing guns 2!#VoteKemp GA! pic.twitter.com/h4c6Z3AhDe

— wendy tepp (@pinkk9lover) November 6, 2018
Stacey Abrams Conversation: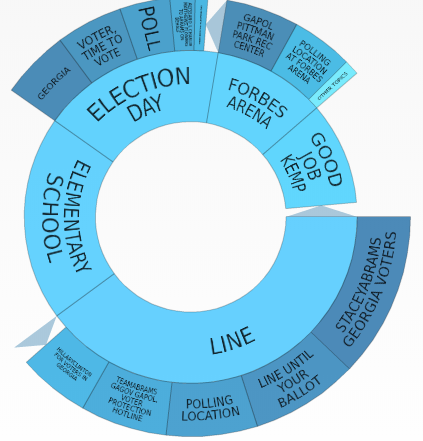 Within those discussing Stacey Abrams, the 25% users expressing positive sentiment praised Abrams for her policies that supported public education, expansion of Medicaid, and foreign trade. Many of these users saw Abrams as a progressive, experienced, educated, and inspiring candidate who would make history by winning this governor's race. With the possibility of a runoff looming many users were also continually urging others the importance of getting involved through voting, and showing their support for Abrams through early voting.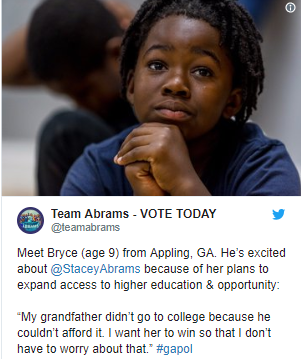 In looking at the 10% negative conversation surrounding Abrams, users express discontent with Abrams due to her plans to raise taxes within the state, her support for immigration, and plans to expand Medicaid within the state.  These users felt that Abrams was not fiscally sound due to her current debt, were angry with her for burning the Georgia state flag, and also denounced Abrams for her liberal policies and lack of support for the Trump administration. Another portion of the conversation came from angry Abrams supporters expressing discontent with the voting machines at certain polling locations, skepticism of potential voter suppression tactics, and criticism of conflicts of interest with Kemp's current position as Secretary of State in Georgia.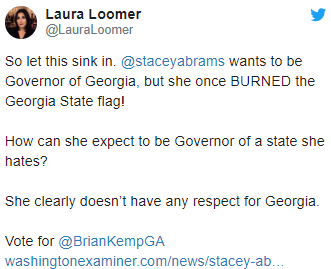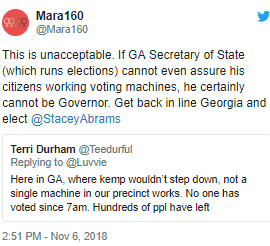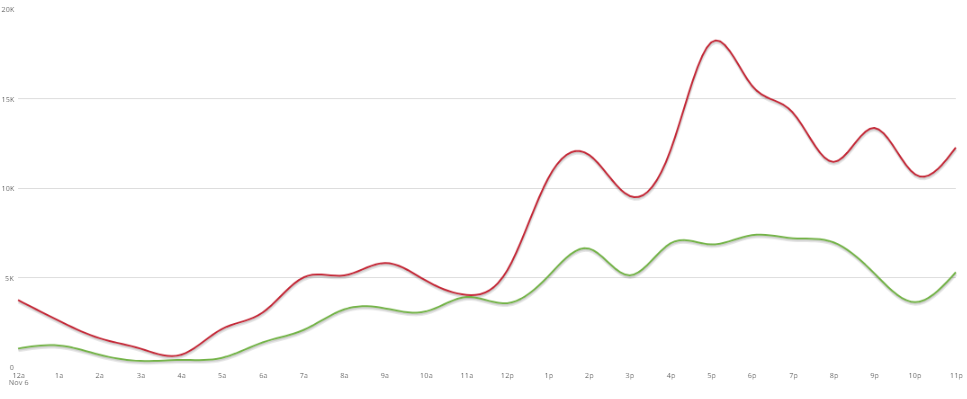 Lastly, we looked at sentiment hourly for the election, noting spikes throughout the conversation. From 1 to 2pm we saw a spike in both positive and negative sentiment of over 10,000 combined posts across Twitter. The positive conversation during this period of time surrounded the excitement of voting and those posting about who they would vote for. Stacey Abrams was mentioned the most in the conversation and with Twitter users touting her win would make history. In contrast, the negative tweets during this timeframe focused on many users experiencing issues with their voting machines and voter wait times upwards of 1.5 hours. In addition to this conversation, Brian Kemp was also a focus in the negative conversation. Tweets called Kemp corrupt or incompetent due to the issues that voters were experiencing as well as negative sentiment toward the voter suppression accusation against Kemp.
We also noticed a large spike in negative conversation from 5 to 6 pm that garnered 18,000 posts from users across Twitter. This conversation centered around the frustration with preparation to the election with lack of proper equipment at voter polling stations and long wait times at voter polls, as well as conversation among users about voter suppression tactics. Additionally we see one last substantial negative sentiment spike at 9pm with many Abrams supporters suggesting a lawsuit to be filed against Kemp and frustration with suspected voter suppression. Many Kemp supporters deny the allegations of foul play and asserting that Abrams supporters were "sore losers".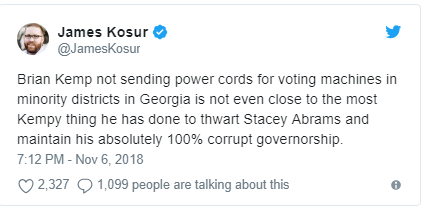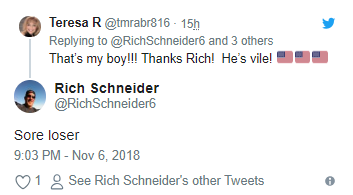 The election came to a close that night with some very interesting results from social media. Twitter gave us some very valuable insight into how candidates were performing during the voting period and allowed for in depth conversation analysis of the current political landscape of Georgia politics. With record setting early voter turnout the data we collected shed light on the shifting opinions of the historically Republican state, and how users on social media from each party are becoming more politically active.
This analysis was performed and composed by SEE Suite interns Bryson Hollomon and Joseph Harris