By Leah Greenberg and Tori Benes, SEE Suite Interns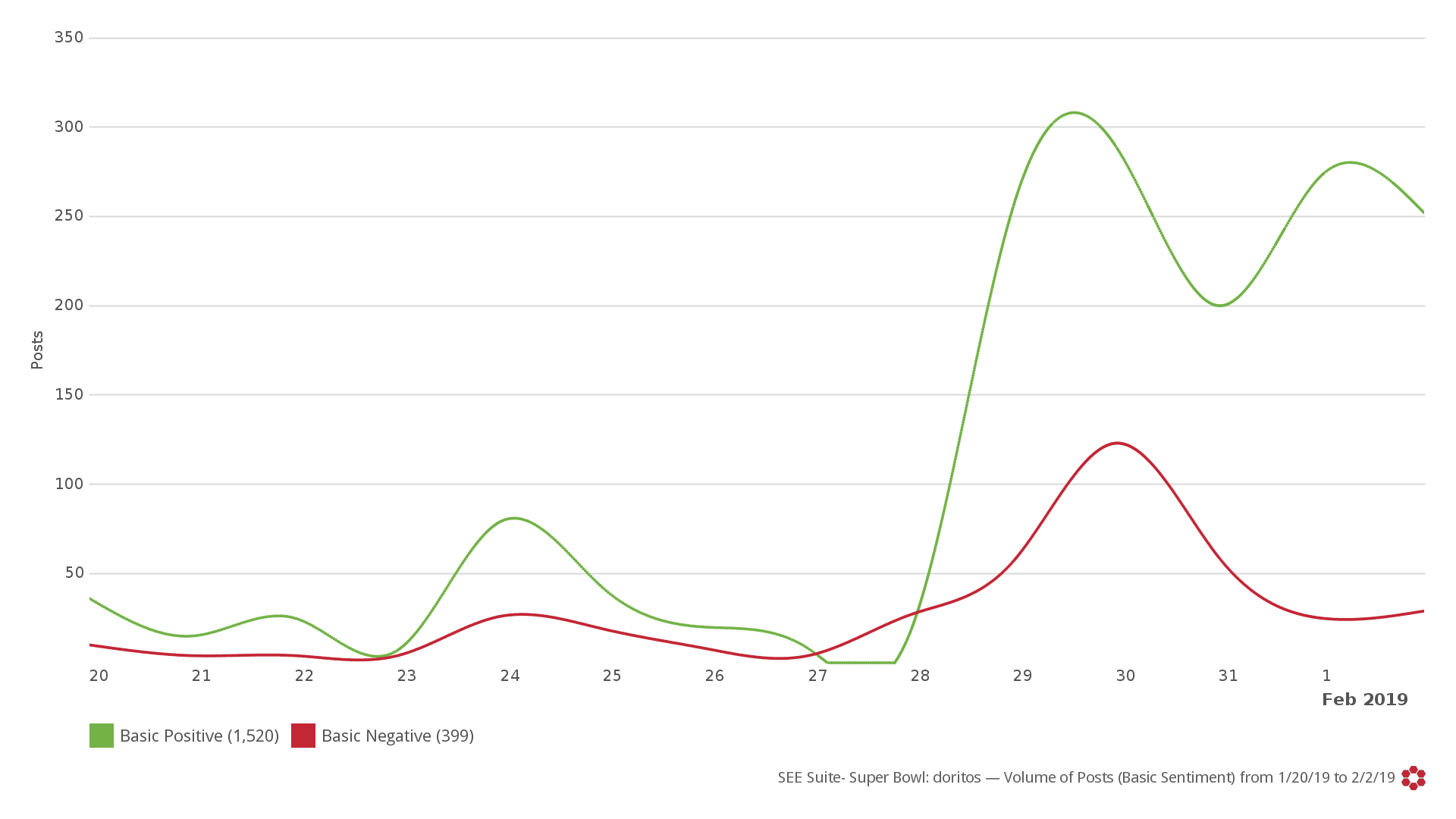 As a long-time fan favorite, Doritos has produced many amusing advertisements to air during the Super Bowl. This year's commercial is no exception. Many on Twitter are raving about the Backstreet Boys and Chance the Rapper collaboration announcing the new "Flamin' Hot Nacho" flavor. Doritos is dominating the chip conversation. They are almost completely overshadowing their competitor Pringles, which was only mentioned in 6.5% of the 23,726 tweets discussing the snack brands. Additionally, about 35% of the tweets mentioning Pringles are retweets of news outlets mentioning multiple game advertisements. Unfortunately, only a small proportion of the Pringles conversation discusses the "Sad Alexa" commercial released for Super Bowl LIII.
While the big game had yet to kick off at the time, a surprising shift occurred in the conversation surrounding Doritos. A spoof ad released on January 29th manipulates the commercial's tagline, "Now its hot" to call out Pepsi's connections to the palm oil industry.
#SBLIII RT @MICMACMON: Hey @Doritos, this is awkward #SBLIII #CantSpinThis #NowItsHot #SaveTheOrangutans #PalmOil @PepsiCo https://t.co/o7ExpRiRhO

— Jorge Luis Lopez Esq (@lopezgovlaw) January 31, 2019
The palm oil industry has been a hot topic recently based on the environmental impacts and alleged mistreatment of workers. In addition to #NowItsHot, with 1,800+ uses, hashtags calling for Pepsi action are rising in popularity. #CantSpinThis has been tweeted 1,100+ times and #SaveTheOrangutans and #PalmOil have 950 mentions each. The video posted on actions.sumofus.org has stirred the pot on social media and caused a spike in negative sentiment towards the brand.
Despite the efforts of social media users to paint the brand in a poor light, Doritos' clever advertisement resulted in more love for the brand than backlash, overall a W for the chip brand.