By Leah Greenberg and Tori Benes, SEE Suite Interns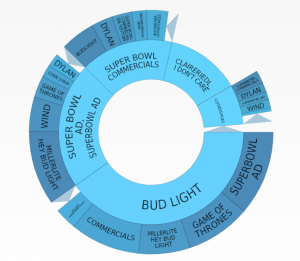 Anheuser Busch's top two brands, Budweiser and Bud Light both aired commercials in this year's big game and the clock may have ended on the fourth quarter of Super Bowl LIII, but Budweiser is still fighting for a victory in the race for the best beer ad.
Bud Light's Bud Knight and the Dilly Dilly toast returned to prime time, this time with dragons. Bud Light and Game of Thrones collaborated for a collaborative commercial that excited fans of both the HBO fantasy epic and the beer brand. Bud Light also brought Miller Lite into the game, calling out the brand's use of corn syrup with two medieval-themed 15-second spots. Day of, Bud Light inspired conversation on Twitter that was 51% positive and only 7% negative.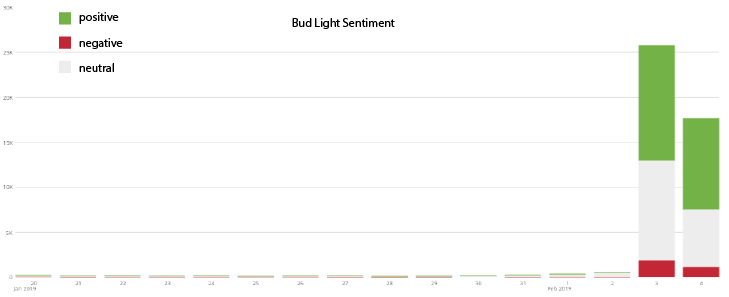 Budweiser's ad "Wind Never Felt Better" was met with rather mixed results. February 3rd, their surrounding conversation was 24% positive and 29% negative, with both sides of the political spectrum airing complaints. The love of Budweiser's clydesdales didn't keep viewers from criticizing the use of Bob Dylan's protest song "Blowin in the Wind" to sell beer. On the other side, viewers were upset that Budweiser wasted their yearly high stakes spot on wind power, which some considered a little too progression. Besides politics, fans of the brand aired their grievances for the lack of tears inspired by their commercial. With a negative sentiment overlapping the positive, Super Bowl LIII wasn't looking like a major success for Budweiser. Yet things looked up on Monday, February 4th.
I don't care what you say but Budweiser's 2015 commercial will ALWAYS be the best pic.twitter.com/nG5W1mw2lQ

— ✰ claire riedl ✰ (@claireriedl_) February 4, 2019
Twitter user @claireriedl_ posted a tweet reminiscing about her favorite Super Bowl Budweiser commercial from back in 2015 and received so many retweets that Budweiser nearly tripled their conversation from the day prior (6,564 new posts on February 3rd, 16,599 new posts on February 4th). Of that tripled conversation, a whopping 87% of posts were positive and only 3% of the posts were negative, many being retweets by the aforementioned user. At the date of publication, her tweet has generated more than 28,000 retweets.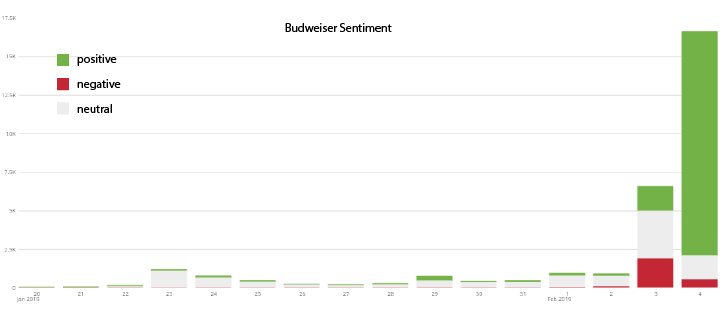 Bud Light still holds 60% of the conversation between the two brands, but had a 32% decrease in conversation from Sunday to Monday, while Budweiser appears to still be on the rise, thanks to a fan of the 2015 Budweiser spot. While Bud Light may have stolen the show for this year's beer advertisement Budweiser, with a puppy and a few Clydesdales, clearly have the power to overpower knights and dragons, even if it didn't happen this year.