Commercial anticipation isn't just for the Super Bowl anymore. ABC sold all of their advertising spots in the Oscars two weeks before the event. Several of the ads gave a nod to cinematic history and women empowerment. The big winners of the night based on Twitter conversation and articles that came out after the event were Nike, Cadillac, and Google.
ABC charged around $2.6 million for a 30 second ad compared to about $5.25 million for a 30 second ad during the Super Bowl. Some brands even opted out of airing their commercials during the Super Bowl and chose to instead air the ad during the Oscars because of the audience demographics. Budweiser chose to run one of their ads during the Oscars because the average audience "is more likely to be looking for premium brands".
The Oscars have often been criticized in the past for their lack of diversity with trending hashtags such as #sowhite. However, advertisers made sure to make their commercials more diverse and inclusive seeing as about 62% of the viewers are female. Many brands such as Nike, IBM, Cadillac, and Budweiser had ads which featured and empowered women. This is a stark contrast to the ads which played during the Super Bowl which catered towards a male demographic.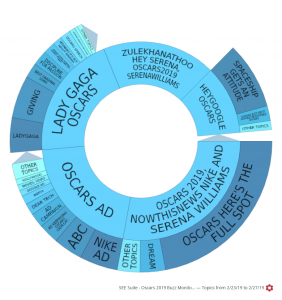 For the 2019 Oscar commercials, it was the Nike "Dream Crazier" ad that took home the gold. Not only did the ad featuring Serena Williams make a splash on Sunday, but it has continued to receive recognition days after. Nike received has received nearly 200,000 retweets and over 400,000 likes on their Twitter post which can be seen below. This ad had 63.8% of the total conversation about the commercials and the responses were overwhelmingly positive. As television viewership among younger generations continues to decrease, will advertisers begin to home in and create more tailored ads for events other than the Super Bowl? We'll keep an eye out!