By Pedro Arreaza, Kaylan Chang, Gin Holloway, and Nhilynn Nguyen
When we conducted our social media analysis for Greenpeace, we wanted to determine what theme dominated Greenpeace's conversations. In the time frame explored, we found that the conversation about Oil generated almost 1 Million percent more reach than in our previous timeframe; for a total of 31 Million reach (Reach measured here as impressions divided by frequency). Since Oil as a theme was not very relevant in the months prior to our analysis, we decided to investigate some of the aspects behind this huge spike.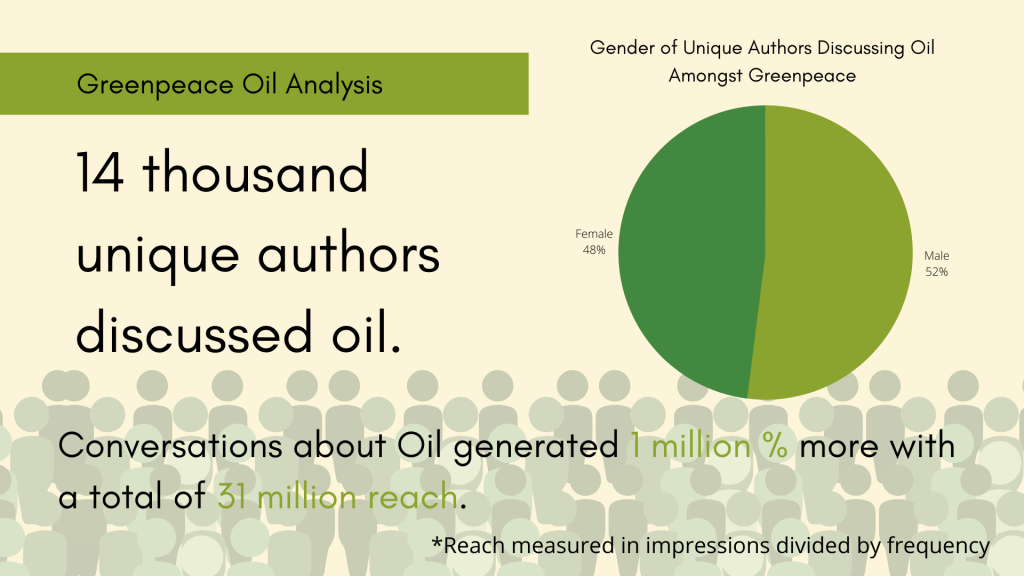 Our analysis reports that 14 thousand unique authors joined the conversation about "Oil." 52 percent of the authors who tweet about "Oil" are male and 48 percent are female. 80 percent of the unique authors talking about "Oil" share a common interest about the environment and politics.
The conversation about oil reached its peak on August 17th when four environmental activists swam through Danish waters to reach an Oil Rig in order to protest and create awareness about the damage oil causes to the environment. Reports, news, commentary, and opinions flooded social media for a few days and generated a mention volume of 3,421 and a max reach of over 23 Million. Greenpeace covered the event successfully and maintained the conversation going by providing live updates.
Greenpeace starts engaging with its audience more when the organization posts and updates on events that focus on their demographic's interest in politics and the environment. Events as an eco-friendly policy being approved, protests and activist movements, and environmental crises generate the most reach and solidifies their position as a reliable organization.