By Meghan Gatto, Isabel Maggio, and Erin Remington
One of the main topics of Human Rights Campaign we focused on is transgender rights. After spending some time on BrandWatch and preparing our data, we found there were over one million tweets within our Boolean query on the topic of transgender equality. We found that there was significant data on tweet sentiments towards our topic with our specific date range (June 01, 2020 – August 31, 2020).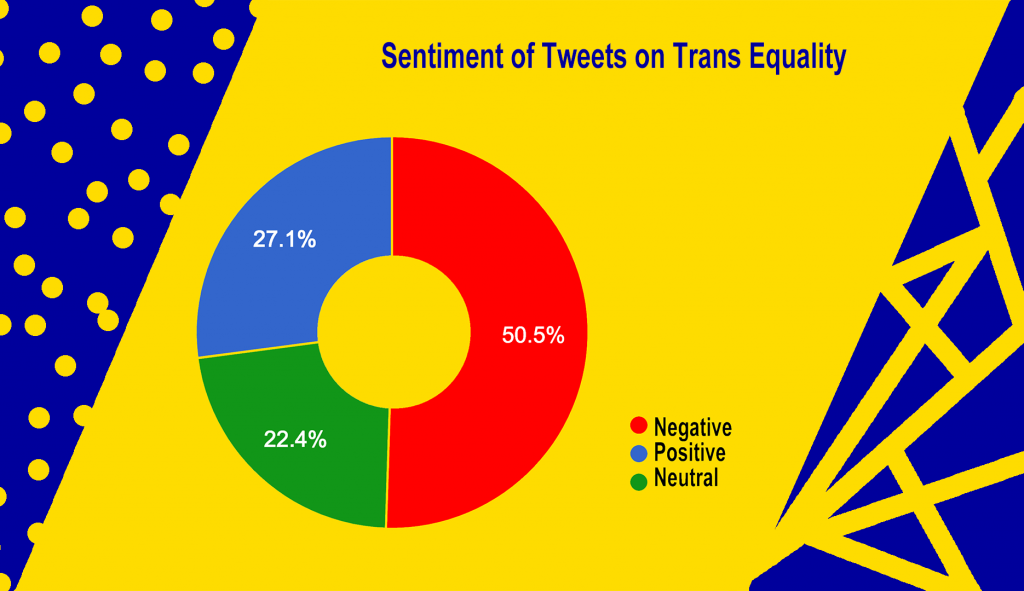 An overwhelmingly large negative sentiment- 520,023 posts out of 1,030,712- start many conversations aimed at the social injustices within the Transgender community. These negative topics highlight the health disparities and discrimination against transgender patients under the Trump administration. As of July 2020, HRC has accounted at least 26 transgender people have been killed, already surpassing the total from last year. Tweets show coverage on trans individuals who have lost their lives this year due to discrimination, hate crimes, and/or anti-trans instigators.
Our findings reveal that this epidemic for violence against the transgender community is particularly pronounced for Black and Latina transgender women. This opens the connection between the large negative sentiment and injustices with the Black Lives Matter movement. When we take a look at our spike analysis, we can see that engagement is highest within politically driven topics, such as the Black Lives Matter movement.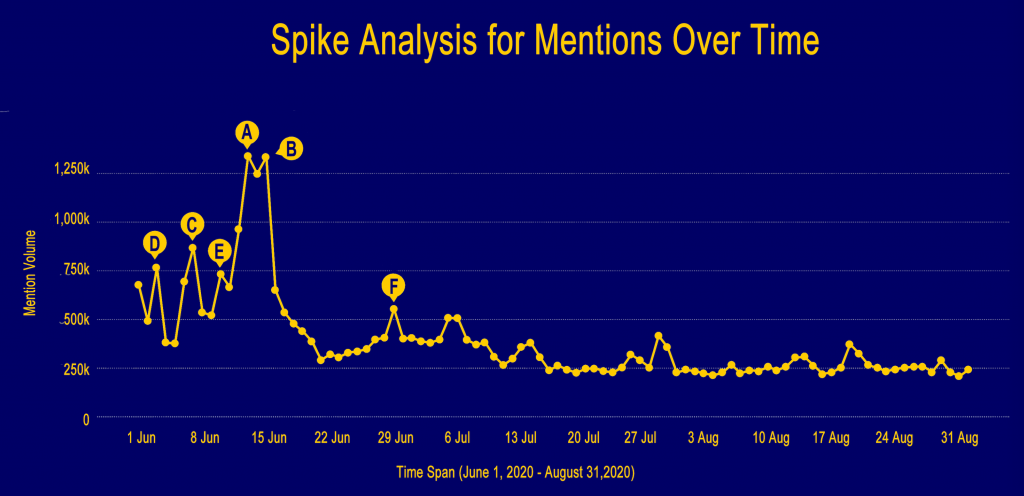 On June 13, 2020 (Point A), The UK government was allegedly leaking intentions to strip back trans rights. This moment was a supposed attempt to divide the attention of the left between standing up for Black lives and standing up for trans lives. On June 7th, 2020 (Point C), tweets centered around the loss of Layleen Polanco, a 27-year-old Afro-Latinx trans woman was pronounced dead in a solitary confinement cell at Rikers. Needless to say, our findings prove that engagement within the topic of Trans Equality, reveal a negative sentiment to bring attention to the social injustices that have been directed at the transgender community.