By Andrew Kacer, Jack Leff, Isabelle Janda, & McKensie Adams
After a thorough analysis of the National Park Foundation's original Twitter posts, we have a suggestion that could better Engagement, as it relates to retweets. Our analysis looked at four main categories: Theme of Post, Media Type, Hashtag Type and URL Type. Each category was then broken down into subcategories that would allow for a better understanding of the specific type of content users engaged with the most through retweets.
While each overall category had one subcategory that stood out among the rest, the main category that proves to be the most significant in affecting Engagement as it relates to retweets, is Media Type. Despite video being one of the least used types of media (n=20), it shows the greatest number of average retweets at 14.8. Based on this information, the National Park Foundation could see better retweet engagement if they start adding more videos to their feed.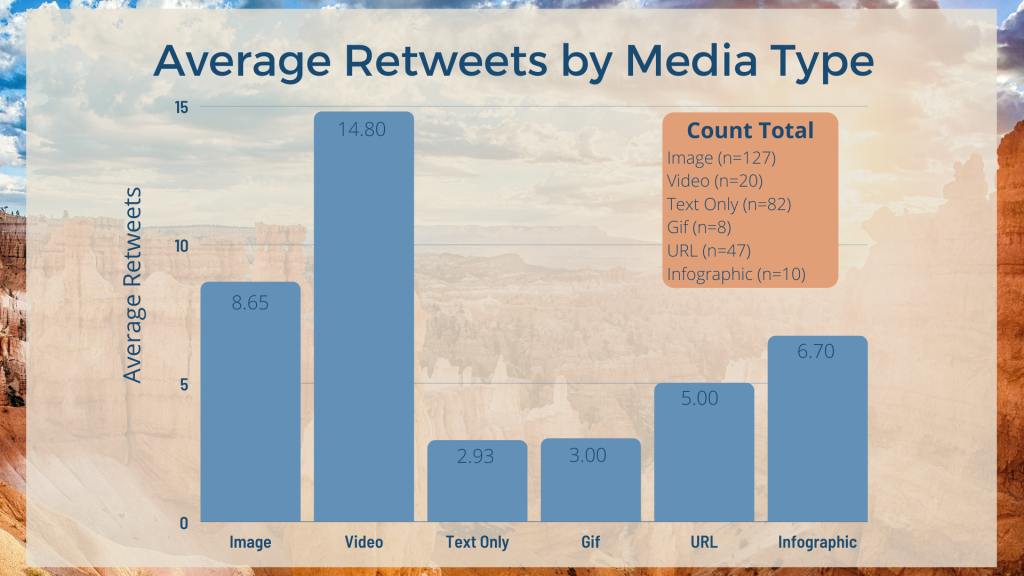 The infographic is a visual representation of the data collected about average number of retweets in response to Media Type. It also includes count total for each category.