By Ev Andrews, Shaolynn Betts, Mamie Johnson, and Madison Mueller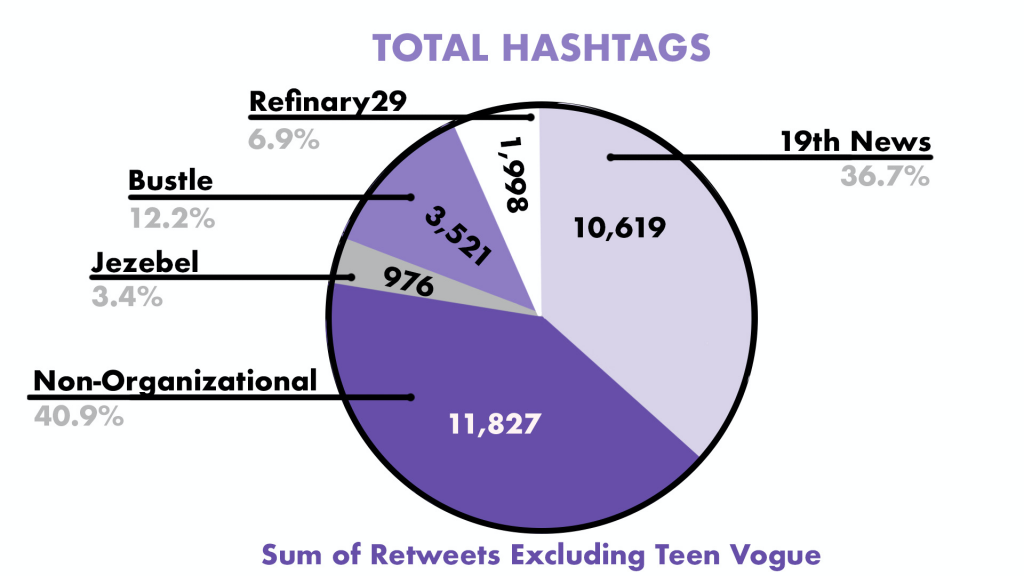 In examining tweets from 19th News and its competitors, the news organization's tweets performed relatively well especially for having recently launched, particularly among engagement of hashtags, measured here as retweets. The competitors included Refinery29; The Lily, a Washington Post women-focused vertical; Bustle; Jezebel; Women's Media Center; and Teen Vogue, though its audience size dramatically outsized the others. Due to this, the sum of retweets among the top ten hashtags have been examined with and without Teen Vogue included to make a comparison.
The findings echo results of the analysis of several other key performance indicators: the 19th Represents event was a cornerstone of growing the news organization's social audience during its launch. The event brought together high-profile people who were particularly newsworthy during the event, including Meghan Markle, the Duchess of Sussex who broke her public silence with this event; and Kamala Harris, who was announced as the Democratic vice presidential nominee just days earlier. A key part of increasing the social reach of the event was the use of the hashtag #19threpresents. Not only did this hashtag perform extremely well among the 19th News' audience, it also ranked third in the top ten retweeted tweets among the competition, including Teen Vogue, which controlled approximately 67% of the total conversation. Although the only other brand-owned hashtag was for Teen Vogue, the remaining were mostly connected to a Teen Vogue article about a Korean pop band.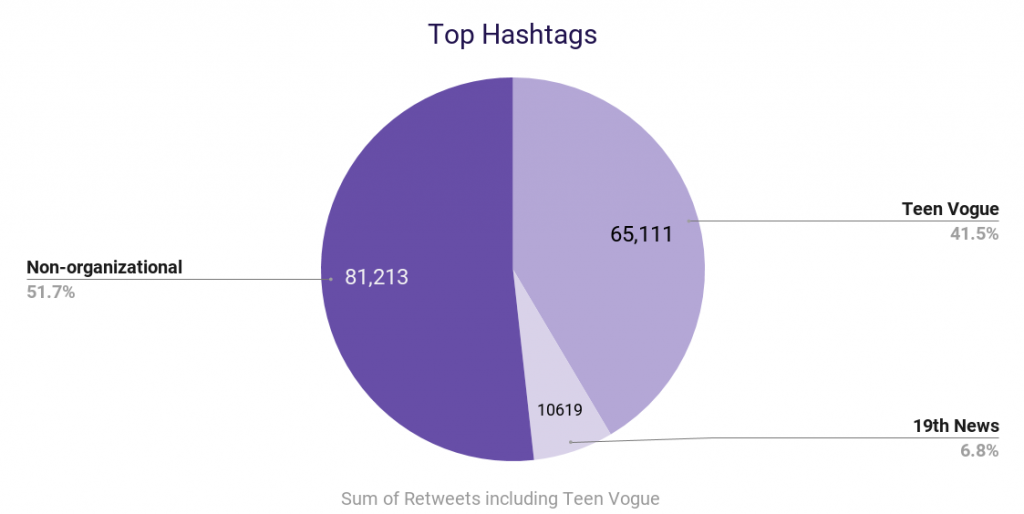 Removing Teen Vogue to analyze the conversation without that story's dominance and Teen Vogue's overall disproportionately large audience brings #19threpresents to make up over a third of the retweets among the top ten hashtags in the competition data. Additionally, although they were not solely connected to 19th News, the hashtags #19thamendment and #meghanmarkle also generated more conversation about the 19th to the top ten. This analysis shows the event was key in making this new organization a top competitor against news organizations of similar size and topic.